Amber Hackett Crosby: Hard Work & Heels

December 26, 2018 / Spark Magazine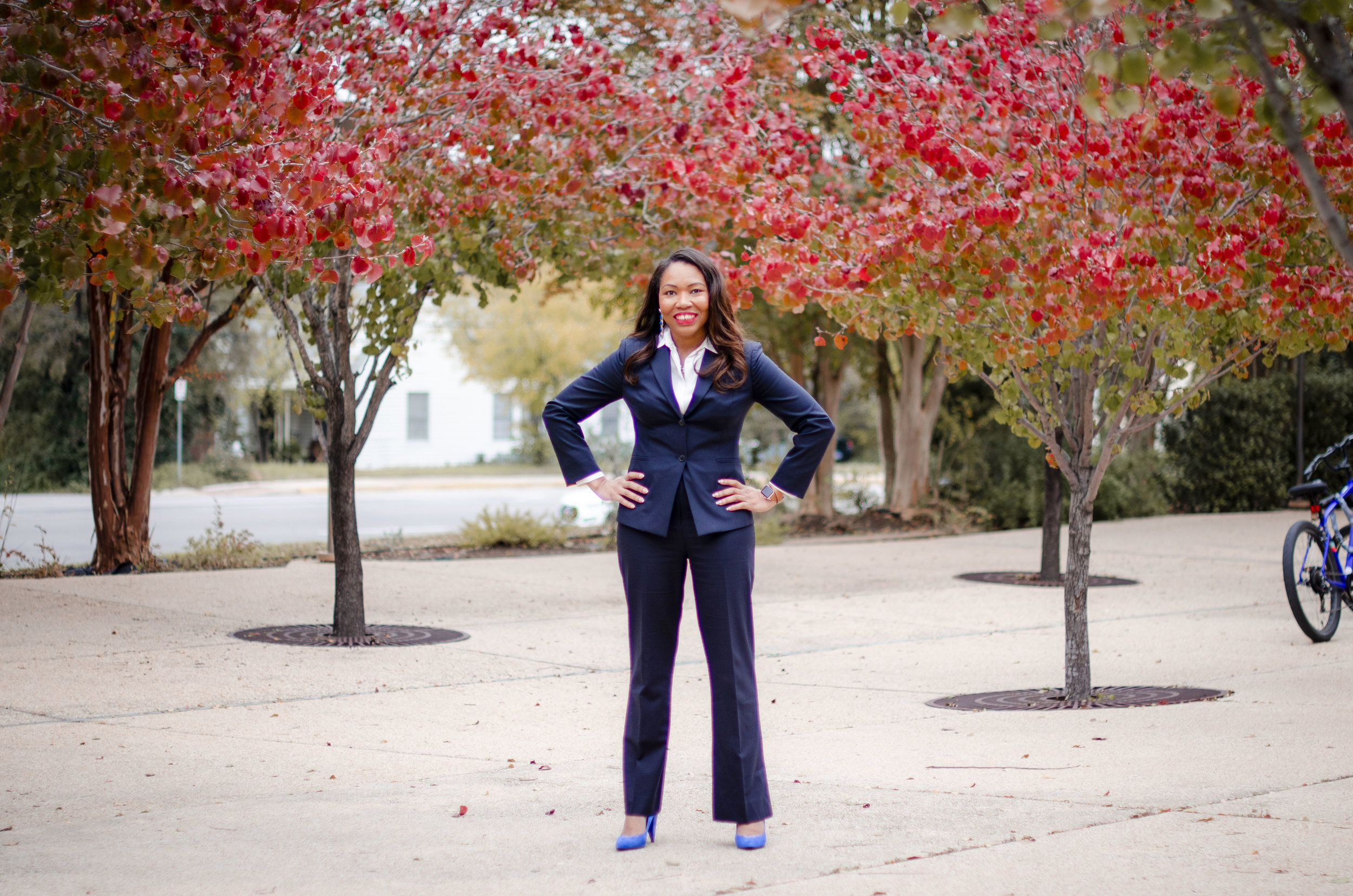 This semester has been one wild ride. With Ariana's "thank u, next" playing in my head like a mantra, I have felt inspired to ground myself through the practice of gratitude. Though there are many people I'm grateful for, one woman stood out as my cheerleader this semester. She has been much more than a supervisor during my internship at The Center For Women in Law, but someone who has encouraged and believed in me.

Amber Hackett Crosby is one of those women you'll want to ask, "

How do you do it all?"

From her mind to her heels, this woman is fabulous. As deputy director for the Center for Women in Law, Hackett Crosby plays a tremendous role propelling women in the legal field, especially women of color. In fact, she supports women just about everywhere: all she comes in contact with, she greets with an encouraging attitude and excited smile — it's contagious. She also takes the role of "mom" seriously for her little boy, and, for Amber, family comes first. … Are you wondering, yet, how she does it all, too?

Amber had modest beginnings and was taught early the importance of education. Her dad's sole mission in life was, "Amber is not going to need a man, she'll be able to stand on her own feet." To achieve that, education was critical. She had high expectations and all the capability to achieve them — which she did, having graduated from the University of Texas and later getting her law degree at the University of Oklahoma College of Law. A huge shaping moment for Hackett Crosby occurred her freshman year of college when her mother had a stroke. Her outlook on family and what's important in life changed dramatically. It was then she stopped thinking so much about herself and started thinking more about others. She stayed at UT at the time, honoring her mother's request, and made efforts to support her family however she could. "Continuing on my path gave me extra motivation," Hackett Crosby said. "I told myself, 'You came back, so you better make this foundation grow.' And afterward, instead of going to law school after college, I waited two years to make sure that my little brother would have enough money to get his bachelor's degree."

Having this experience gave her a more open, caring perspective, which is apparent in the work she does at the Center. Out of her projects, Hackett Crosby is most excited about the First-Year Associates Accelerate Program, which aims to support first-year associates in their transition from law students to law firm professionals – a crucial time period for women lawyers and the future of their careers. "The program has a lot of promise for the profession," Hackett Crosby said. "Women are still underrepresented in the ranks of equity partnership at laws firms … so, it's going to benefit us to know if there's something we can do to further encourage success in the profession, and if so, what are those things and how are we going to employ them." Much of her professional and personal drive stems from wanting to encourage and uplift women and working toward equality in our society. To say the least, Hackett Crosby believes strongly in women supporting women.



"Speaking to a woman: you are YOU. Whatever it is that makes you unique, makes you different – own that and love that about yourself," Hackett Crosby said. "Removing the stigma within ourselves goes a long way to helping women to present themselves to the world from a place of confidence. When I think of my blackness as a benefit, as something to be proud of, I present to the world differently. And I hope others find that confidence, too."



Hackett Crosby is thankful for the opportunities she's had and also stressed her gratitude for the people who have been there for her. Between all she does, she knows the help she's had along the way has been crucial to her success and to her capability to support others. "I take great pride in being of any assistance to people, women in particular because I've had so many people help me along the way," Hackett Crosby said. "You can't trust everybody – listen to your gut – but surround yourself with people who want to celebrate your successes and will grieve your setbacks with you. Nobody has made it to where they are on their own." From being a mom to a mentor, it's clear this woman's drive and passion is unstoppable. Her key to success? Maybe the grace she gives herself, the confidence she continues to build around who she is or keeping herself in check with what really matters. Whatever it is, Hackett Crosby is an inspirational woman on a mission to lift up the women around her, and I, for one, am thankful for her heart (and her heels). •






by: Tiffany Hammond

Tiffany Hammond is a senior Public Relations major at The University of Texas at Austin. She is thrilled for her first semester of writing for Spark. When not writing (or reading), you can catch her rating Austin's local tacos, freeing her mind at a yoga class or finding dogs to play with.