Around The Globe to UT

October 29, 2018 / Spark Magazine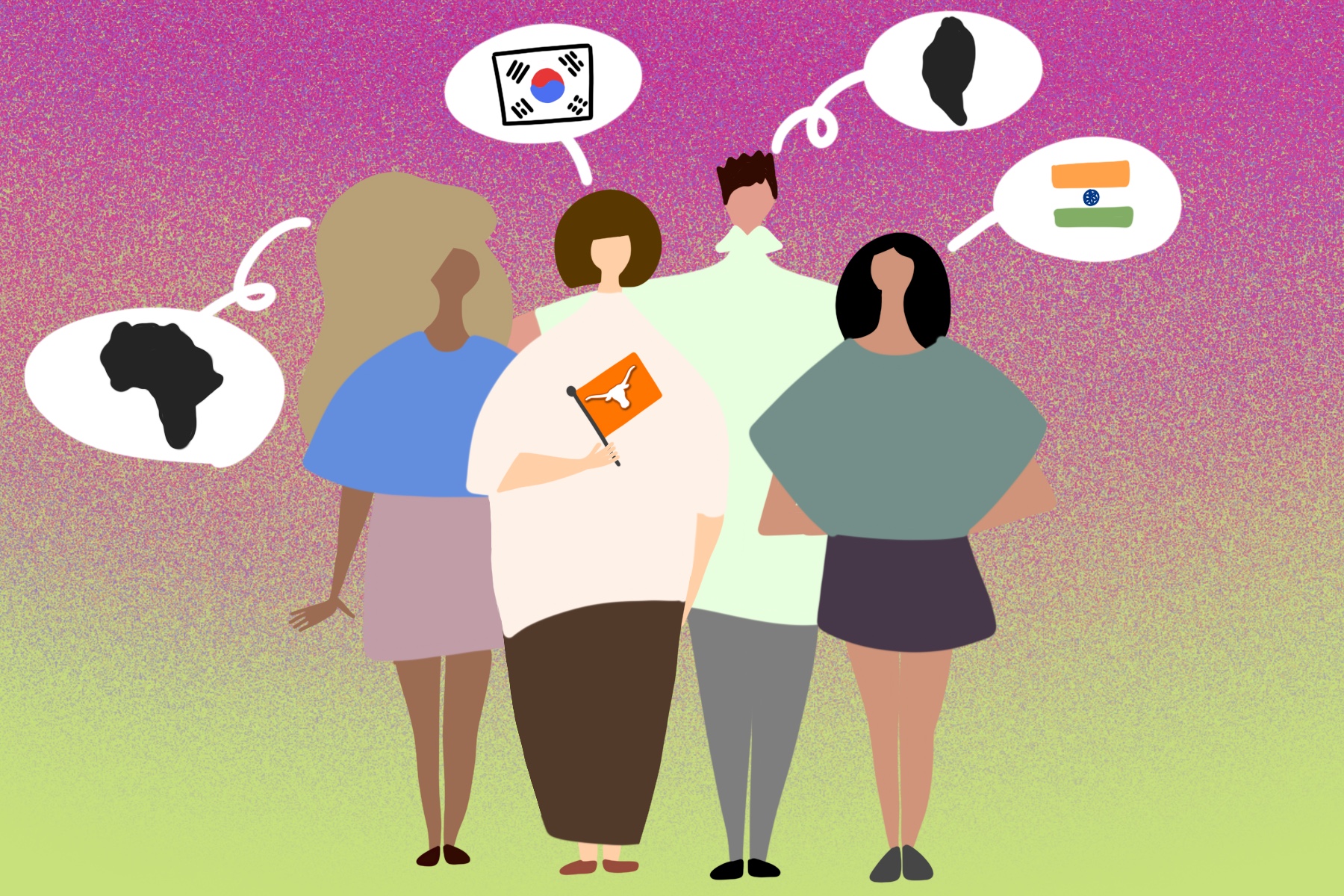 The University of Texas at Austin, a school of more than 50,000 people, boasts different skin colors, each holding the essence of a unique heritage. At UT, you can see a never-ending tapestry of cultures coming to life.

So, a story is born.

It's only from this exquisite diversity and looking outside that we can delve deeper within. It's only when we meet different types of people that we may swim into the vast whirlpool of our own minds and understand what we want out of life. Isn't that what college is about? Not just exploring, but discovering! And at a place like UT, there are no limits. At least that's what it feels like being an international student from India, suddenly thrown into Longhorn nation. It's so intriguing to learn about where people come from, what makes them who they are. While everybody has a story about UT, some of us have had to travel a little longer to get here.

I interviewed a few international students at UT in order to learn about their experiences and what it was like leaving their homes to pursue their dreams beyond. What I got were a lot of emotional smiles and glistening eyes. The people I spoke to come from different places — India, Morocco, Korea… The list goes on. Almost every single person I spoke to told me how difficult freshman year was and how weird it felt.

I could relate. Personally, moving from Mumbai, India, everything felt a little strange in the beginning. Back home you behave a certain way, based on that environment. But suddenly you're on a different continent, and you don't know what's even socially acceptable.

Do I bring this topic up in my general conversations? Do I behave this way? Is this appropriate? How exactly am I supposed to use Canvas? Americans don't use the metric system, so that's confusing. Sometimes people make American pop culture references you don't understand, though it's getting easier with the Internet, and memes, of course. Yasmine El Adib, an international student from Morocco, weighs in. "I wish people here would understand how difficult it is for us, not only to get here, but even more to stay. "I'm sure most international students can relate. I truly do believe that empathy is key. And that, indeed, is the beauty of being at a school like UT — having the opportunity to connect with individuals whilst also respecting their authenticity and allowing them to shine their own light. Yasmine continues, "It's so funny because when I first came here, people on the road were really nice, and they'd just say, 'Hi, how are you?' And that was so crazy because if you did that back home you'd just get weird glares. The servers here always come up and introduce themselves, ask you how your day is going… And I was so surprised about that. I thought, 'Wait, what is going on? Are we friends now?'"

April Kim, a student from Korea, has similar stories to tell. "Strangers greet each other on the street, 'Hey, how are you?' Oh my God, in Korea we would never do that. I also felt homesick literally every day as a freshman. But it gets better. I feel good now."


Another thing that international students can relate to — the misconception that most of us speak terrible English! Kalyani Limaye, a student from Mumbai, India, tells us what she experienced. "When I'd tell people I'm from India, they'd say: 'Oh my God, but your English is so good!' I didn't find that offensive personally, but it's funny how almost every single person I met told me something like that. There are so many perceptions out there that aren't true. I'd always tell them how English was my first language, and how that's the case with many other Indians. It would open up a whole new conversation, and that's the best part!"

At the end of the day, one may not remember the formulas they learned in Chemistry, but they will surely remember these interesting conversations they've had with different people. That's what college is made of — conversations, coincidences, and stories… Fleeting moments that go on to become unforgettable memories. It's the people. The people with which you take tiny steps every day and suddenly, one day you look back, and you realize you've completed an entire journey. But you never realize how tedious or long the journey was, because you were too busy enjoying the path in that present moment.

Perhaps it's the school spirit at UT that allows us to feel so free.

As freshmen, the unfamiliarity of it all sometimes gets to you. You feel lost in an endless crowd. But if you truly immerse yourself in each moment and allow the connections you make to change you as a person, you realize the power of being at UT. Because that is what connects us all, irrespective of where we come from.

The fact that we are all Texas Longhorns.

While we all have our own journeys, it helps to know that we're headed in the same direction and, most importantly, that we are not alone. The point isn't to try to "Americanize" the international students, or vice versa. The point is to absorb, understand and enjoy just who each one of us is: unique, authentic, genuine, raw. As time passes we may become more American, our accent may change a bit, maybe even our lingo… But let it all be organic. No pressure.

That's the best part about being here — no matter what you are, or what you may become — there's a home for you here. There's a place for everyone here. That's what makes this university so great. And you will find that place. You will find your people. It just takes time… (and a lot of interesting conversations!)

As Longhorns we must understand how much power each of us as individuals have and realize what we can truly do with that power if we come together. All we need to do is accept ourselves just as we are and be patient and loving towards the rest.

The next time you find yourself judging someone for asking too many basic questions, for having a "weird" accent or for constantly misunderstanding what you're saying…take a moment to realize how immense and intricate each person is. It's never as it seems on the surface. Judging someone is pointless because our judgments will always be misguided and biased. Instead of letting our differences divide us, we should use this diversity as a tool to bring us all together.

Because honestly, what would the world be without a little spice of variety? •






EDIT: This article has been revised to include names of sources and their original quotes. An earlier version had kept sources anonymous and unnamed. In maintaining journalistic integrity, Spark recognizes the importance of releasing these sources and has acted promptly to do so.

By: Niti Majethia

Graphics by: Jasmy Liu

Niti Majethia is a third-year rhetoric and writing student from Mumbai, India. Besides creative writing and doing spoken word performances, Niti likes to eat a lot, meet new people and spend time with puppies.