Between Shades of Black

March 6, 2020 / Allison Knodle





Under the scathing gaze of a thousand eyes, static sadness rusts her porcelain skin.

Flaunting a stark white wedding gown, she hovers down the aisle like a dream, prepared to pledge "Till death do us part." Wed locked. In a blink, she struggles to pump air from her lungs, suffocating in a barbed wire corset. Grief ravaged the shell of a woman she is without her true love, dearly departed. Her cheeks painted pale. His eyes glued open. A man, nothing more than a mannequin, posed like a doll on display. His palm draped on her sunken shoulder. Vacant glare, flash and click. Will he thrive in heaven or burn in hell? One way to tell — if he has been good, flowers will grow upon his grave; if he has been evil, only weeds will sprout.

A husbandless wife is doomed to a grave of mourning, entangled by dark garments dubbed widow's weeds. Fogged by death's dinge, frocks of chartreuse, mauve and turquoise collect dust. In full mourning, she hides behind black billowy sleeves, a thick veil of pebbled crepe, silhouette shrouded in sorrow. As suffering dulls, a pearly sheen radiates on dense fabric, her color palette expands to brown, gray, lilac and navy, occasionally white: an ironic homage to a tragic bride. The Christian philosophy of memento mori, Latin for "remember you must die," becomes macabre jewelry, decorating her veiny skin with jet stones and locks of his hair woven into a broach. Two and a half years after death, she purges her closet of ratty weeds; bad luck to save for another untimely end.

"Yet at the crux of this strange ritual is a morbid kind of retail therapy, confrontation of grief that may otherwise be ignored."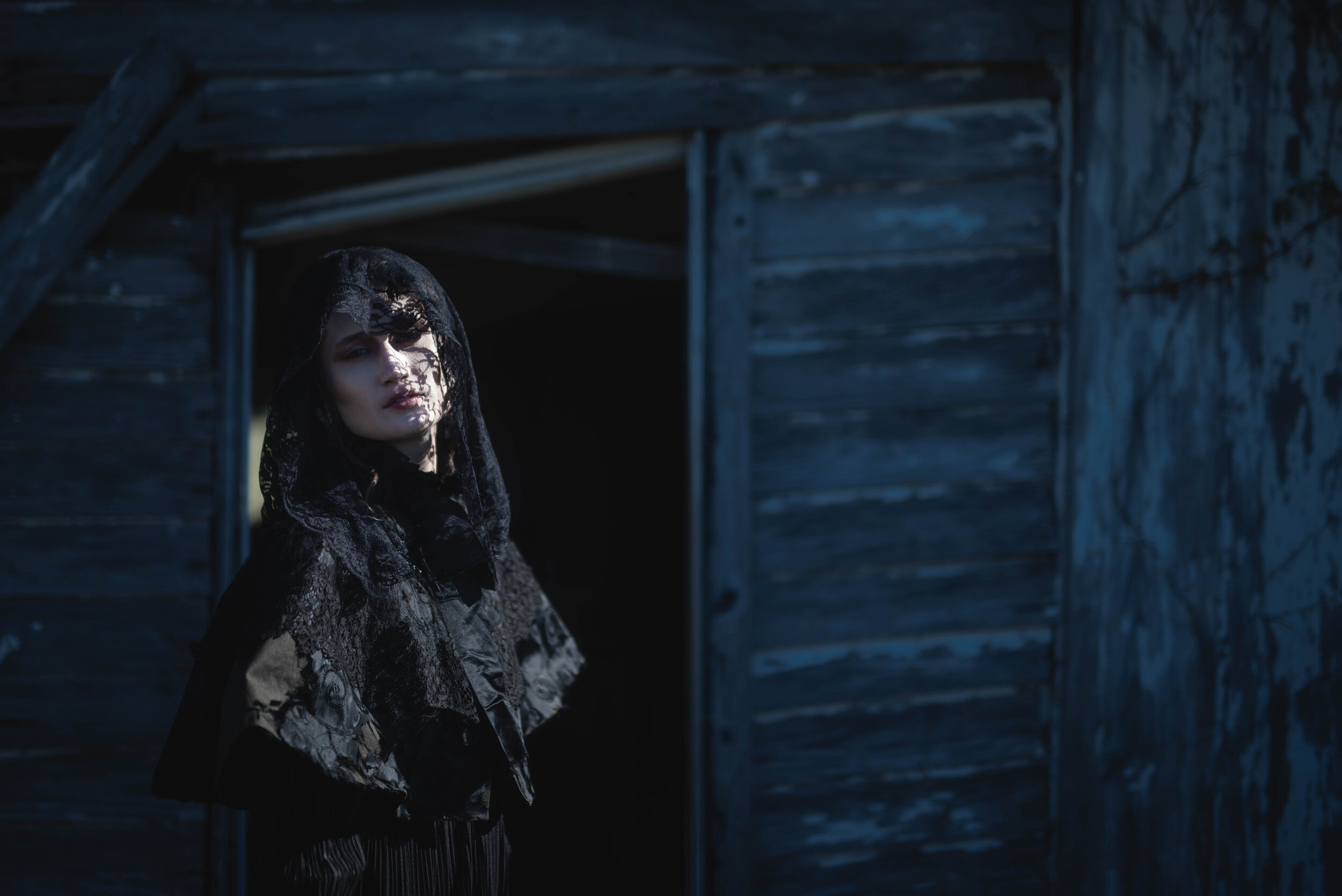 Waves of sympathy intoxicated elites, who contorted the trend into an expectation. Queen Victoria, mourning's poster child, wore weeds from her husband's death until her own passing — nearly 40 years later. Black dominated her identity as an icon of sobriety and ideal Christian widowhood. She was worshipped by a country rampant with disease and an average life expectancy of just 45. Infatuated by death, Victorians dwelled in grief to supplement the lives of those taken too soon. Society mourned eagerly, limited only by the depth of their pockets. Blue bloods hoarded black catalogues of clothes, noses upturned to the poor who penny-pinched for just a single gown. An industry built on social awareness peppered cities with warehouses stocked full of dresses for every occasion — even mourning bathing suits strutted on sandy beaches.

As constricting as a prison jumpsuit, this grim pageantry left women under the tyranny of taboo. They were forced to reject social invitations, and couldn't drink or even dance (arguably the best form of self-care). "Gone with the Wind's" stubborn Belle Scarlett O'Hara, in the dusk of mourning, waltzed with a handsome bachelor at a crowded party, ignoring the guests' disgust at her promiscuity. How could she be so disrespectful? Maybe the guests hadn't considered that everyone has their own unorthodox way of grieving; rules and regulations only intensify the misery. More oppressive than expressive, vanity poisoned good intentions, dressing to mourn was no longer a matter of healing sorrow so much as parading wealth and pity.

Yet at the crux of this strange ritual is a morbid kind of retail therapy, confrontation of grief that may otherwise be ignored. Fashion reflects emotion, sometimes more so than color. It reminds the mourner that death is daunting and a fate no one can escape. Avoiding the thought of it protects from the overhanging fear of demise, but realization breeds acceptance, almost contentment. To stay sane, people constantly fiend for prestige, thirsty for attention to deflect their worries. It's natural to be comforted by status security. Compliments and compassion extend a reassuring hand to hold, especially when most vulnerable. Communal support is enough to keep heads held high, tears dry and move on in a life that guarantees nothing but death. ■






By: Allison Knodle Layout: Pranutha Punukula & Rebecca Wong Photographer: Eddie Gaspar Stylist: Alex Cao HMUA: Amber Bray Model: Julia Vastano

View the full spread as it appeared in Issue No. 13

here

.