Can You Be Profound If You Are Not Lonely?

May 1, 2022 / Karen Xie



The tale of a girl turned writer, a woman on fire, a woman in love, and a writer undone.


Preface.
Three quarters of the profound things in this world were written by someone lonely. I made that up, but it feels true.


"Do you like to write in the day or night?"
"Night" is the resounding response.


Readers, I'll admit — this took a while to finish. Maybe because it's been almost a year to the day that I have tackled a page this blank, or maybe just because I'm in a pretty damn good place.


Is it true then?


The Bell Jar, a critically acclaimed roman à clef by a woman whose final poems "play Russian roulette with six cartridges in the cylinder," was published one month before those cartridges finally found their mark.

folklore, the 11th gramophone on a gilded shelf, was born out of isolation in the wake of our first-ever pandemic.


Oh, woe.


I am in no "inferno" comparable to Sylvia Plath's nor can I pretend to draw level with Taylor Swift, but let me tie a string between us, single-knot the metaphor onto our will to create, to dream of stories and paint them in words.


Can you be profound if not _______?
(lonely) (miserable) (lost) (disturbed)


There is the big question. Here is another:


How many chapters until I realize I've asked the wrong one?


Let's find out.


Chapter 1.
a child of the stars


I discovered writing as one might discover a long-lost friend or a missing sock.

The first serious poem I ever wrote was "Ode to Books," a fitting 9-year-old debut in which I likened novel spines to mountain ridges and began the emotional descent from reader to writer. Words emerged from those ridges, fell thick and heavy like blizzards. Arms of stanza whipped around my neck, and we whirled through adolescent seasons.

Writing filled me with a new light. Fizzles and pink winds and golden stars taped on ceilings. I liked how diction might bend or stand slim as a breeze, feel honey-full on the tongue or slip like milk through the teeth. I liked how shifting a clause could completely change the song of a sentence, and I loved when a thought fell so perfectly it landed like a shiver.

I sought out writing camps, treated seventh grade workshops with the solemnest sincerity; I scribbled and dabbled and was absolutely exhilarated, as if the world were my own secret. My notes began to fill, quickly, like thunder water before levees give way.


"my own pursuit of happiness"
she once wrote a love letter to dusk and angels,
her hair moved like rain,
and when she danced, she lived.
she was a child of the moon and the stars and
everything in between,
and she had found herself.
(august 2016)


Did she? Or did she find a temporary tonic disguised as a sonnet?






Chapter 2.
thoughts from a window seat


I wrote for fun. I wrote for myself. I wrote for others. I wrote for a spell.

Instructions to Write a Good Thing:
Hole up in your room, cheeks burnt by midnight lamp-light, eyes flashing with fatigue. Do not speak to anyone (mom, sister, flight attendant), and stare out the plane window as if filming an indie denouement, light-catching, violin-swelling — lest the magic be broken. To expel the fever of words, you must first grow cold.

I adored it. Revered the way the day darkened as I contemplated things:


Can we go someplace time has forgotten?
What do you wear to the end of the world?
Do authors know what their heroes will do,
or does it surprise them too?

Writing as a muscle,
Writing as a balm,
Writing as a place I must sink to, somewhere deep in my chest. Down the sternum and twice to the left.
Writing as a lifeline.


In this moment, I feel like as long as I keep writing, I just might never die.
(march 2020)

Sylvia, I almost get it, what it means to write like a woman on fire. "The blood jet is poetry; There is no stopping it." It is only me, my pen, and the heat of nothing that may turn into something. In March of 2020, at the end of the world, I wear sweatpants and wrap metaphors 'round my wrist. Double knot and pull me in.

I no longer "liked to write" — for the first time, I called myself a writer.






Chapter 3.
then, i met a boy


Typical.

But reader, this was a world beyond my own — white cliffs of lore, wine by heather-sprayed rivers. Mornings where time was only the faintest guess, and nights where we danced to our own secrets. It was cliché as "meant to be," natural as this simile, and I clung to every second because none of it was meant to last.


Can you blame me?

Laughing as a muscle,
His voice as a balm,
Moonlit whispers as a place I could sink to. Up the stairs, to the right, and once to the left.
Lifeline snipped, my pen's fire waned.



I used to wax poetic about every sunrise, stolen moment. Those notes haven't been touched in half a year.
(august 2021)

Spring withers in summer's stifling reality, and when I returned, alone, to school in Austin's ember August, I felt as though the levees had broken and blood jets run dry. One tonic, traded for another, both of them temporary.

I had no urge to write. And that was fucking terrifying.


Chapter 4.
7 a.m. autumn latte


I live on the floor of the penthouse pool that spills aqua in sunshine. Lights are strung like pearls above a wicker patio set, and when all turns pink and faded, I can yell to the tops of the roofs of the city — I HAVE IT ALL. I AM SO HAPPY.

My room is down the hall and twice to the left. My bed is pushed against two windows so that I wake to a wide world. Tonight, it has never felt wider.


I'm sitting on the 19th floor,
and I've never before felt so alone.
(october 2021)

Across the street is where you live when you are young and stupid and want to make friends with everyone down the hall. A room glows purple and that could be me, dancing next to those I will soon realize I can only call friends for the night.

But I am three years too old. At 7 a.m. I walk to pick up a spiced latte. At 7:30 a.m. I return and tend to the duties of the season: interviews, networking, 50-page reports, and 10 hours later, I ignore the chatter of roommates leaving for a football game.

It is so quiet I can hear my blinks. Behind me, the A/C rattles on as if afraid of silence.

One night, I break down.


"God, it's nonstop."

I pick up my guitar, the end of a forgotten, fraying string, and begin weaving the gaps in the air. Words emerge, slowly, shakily, order from entropy. The stretching of a muscle that has long atrophied.

Instructions to Revive the Dying Writer:
Make her lonely. And sad. Sad helps.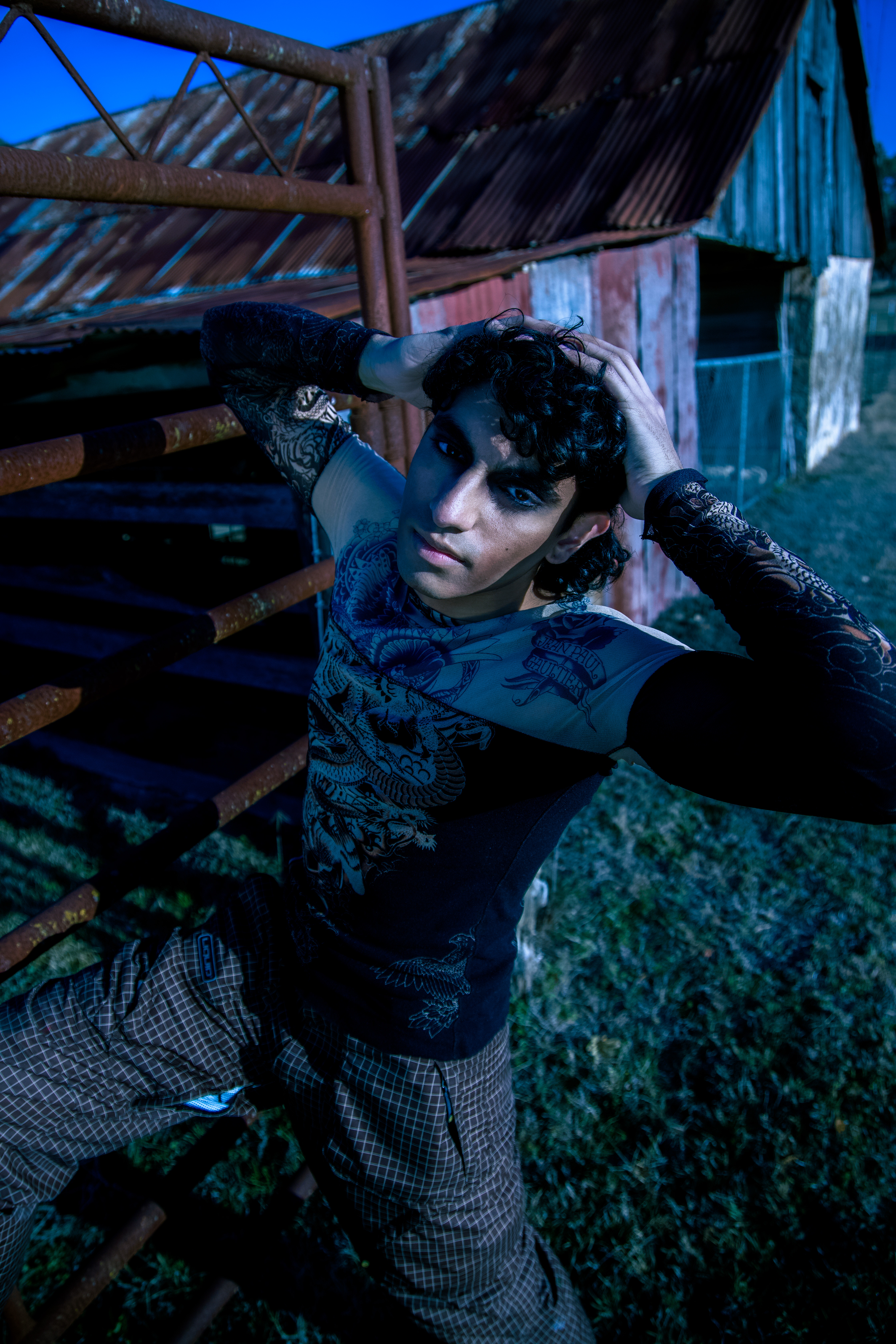 Chapter 5.
winter's drought


In December's infancy, I crawled to my feet, repaired the levees, but something felt wrong. I had nothing to say. No — all I wanted to say was that I had nothing to say — lament the deadness of my words, the absence of thunder. I'd pick up my guitar and return to the same thing, spinning out on a self-fulfilling prophecy.


What happened to the moon, the stars, and everything in between? Golden stars taped on ceilings?

Then — epiphany, as one might discover the true nature of a friend or a hole in a sock.


Someone left a mattress by the waterside
Thank you
Oh the first voice on the trail
He wears jeans and a black tee
Jeans on a trail?
Sorry
I took the best spot.
There is just wind and a wind chime
Wind in the leaves
Wind as a plea
Wind pushing glitter across the lake
It is just me.
I am writing poetry
for the first time in months.
There has been a drought
Silence where there was word.
Is he the reason for it?
(december 2021)

Turn winter's page, and I'll give you the first answer: it takes six chapters.


Chapter 6.
recently, spring


Reader, have you ever been in love? The kind that fizzles and lands like a shiver? That sinks deep in your chest, past your heart and twice to the left?


Oh. We're getting close.


Plath, Sexton, Woolf — names that fall in the white space between two entwined circles: "brilliant" and "tortured." I was mesmerized by this cliche, seduced into fallacy — that it takes a certain darkness to dispel anything worthy; that we write at night because the day is too pale to be marred by our thoughts, inky and mad with retribution.

I thought happiness was the mortar of my writer's block, only collapsed by sadness' sledgehammer. A good excuse. Great excuse, even. For who could fault me for being happy?


Now I know better: fault me for being in love.


Yes, for me, it was never a question of being lonely, happy, or miserable, but being in love. Writing was my first love! I positively beamed in songs of twinkling new years, leaf vortexes, clocks that strike 13. The great tonic was always romance, and I flourished, tumbling head-over-heels into versions of myself more piquant and profound than imaginable.

Then, when a boy, real and true, swept me into new lights, I no longer turned to writing — the snowbank could be instead whispered to a patient, moonlit smile.


There. Two questions down.


But that was my discovery, my arc, pulled to finality. Your answer you must uncover for yourself. What I'm intimating is an exercise of self-reflection: why do you create?

We must ask, or else be prey to such cliches as Russian roulette and cartridges. There may be no answer, the author not yet sure what the hero will do, but there's the fever in writing — we can make anything come true.

Tonight, winds are pink and nothing is fading, rooms glow as they please, and the stars are out, taped on my ceiling. The world is everyone's secret, and it is so, very wide. I am sitting on the 19th floor, and I can yell or whisper to myself: I am alone. I have it all. I am so happy.■






By: Karen Xie

Layout: Vivienne Leow

Photographer: Ellis Brown

Videographer: Moises Zanabria

Stylists: Summer Sweeris & Julia Garrett

Hmua: Cameron Kelly

Model: Yousuf Khan






View the full spread as it appeared in Issue No. 18

here

.