Dayglow is the Mr. Rogers of indie pop.


May 1, 2022 / Laura Laughead






He's sick of sad music and wants to make you smile, one chord at a time. Dayglow, the musical alter ego of 20-year-old Sloan Struble, talks going viral, e-boy music, and how it's all sunrise from here.



A college dropout in a cowboy hat beats a cowbell with a drumstick on a stage in Glasgow, Scotland. The crowd loves it. Some in this Scottish audience are wearing their own cowboy hats and mimicking the lanky 20-year-old Texan's signature dance — a wonky half saunter, half flail across the stage.

The ding of the cowbell strikes through the cacophony of concert sounds and complements the melody. He finishes his number with a bow that flings his Stetson off his head. But what the crowd responds to is more than just his dance moves, his sonic creativity, or his talent. It's his smile.

Sloan Struble — you might know him as Dayglow — is back stateside four months after Glasgow when he approaches me outside an Austin coffee shop. His strawberry blonde hair is tucked behind his ears, and he's wearing a shirt he tells me he bought at a thrift shop for $1. Struble might as well have just stepped out of a 1980s film. A casting director would peg him as a college hipster rather than an indie pop star about to jet off on another international tour.

Struble has the kind of voice that sounds like he's smiling even if you can't see his face. He grins as I introduce myself. It's no wonder "Ones to Watch," an outlet that "discovers" the next big artist, referred to his music as "the antidote to dark pop."





At age 10, Struble learned how to pick out keys and chords for the first time after his cousin showed him GarageBand. In the decade since, he's taught himself how to produce and write music by studying his favorite songs and, in true Gen Z fashion, by watching YouTube — a platform that would later help launch his career.

The summer before he left for his first semester at the University of Texas at Austin, Struble was busy at work in his childhood bedroom in Aledo, Texas (population 4,232). He was putting the finishing touches on his 10-song debut album, "Fuzzybrain," under the pseudonym Dayglow.

His story is the stuff of any musical teen's dreams. As Struble sat in class, Dayglow was exploding online. First came Spotify and YouTube, and then an Instagram shoutout from influencer Emma Chamberlain. Now, Dayglow's Spotify boasts almost 3 million monthly listeners. His music video for "Can I Call You Tonight?" — which Struble shot on a green screen in his childhood bedroom with a high school friend — has surpassed 12 million hits on YouTube.

It's the kind of attention that could cause any aspiring artist's head to swell. But at our coffee meeting, one of the first things Struble tells me is how lucky and grateful he feels for the "overnight success" he never expected.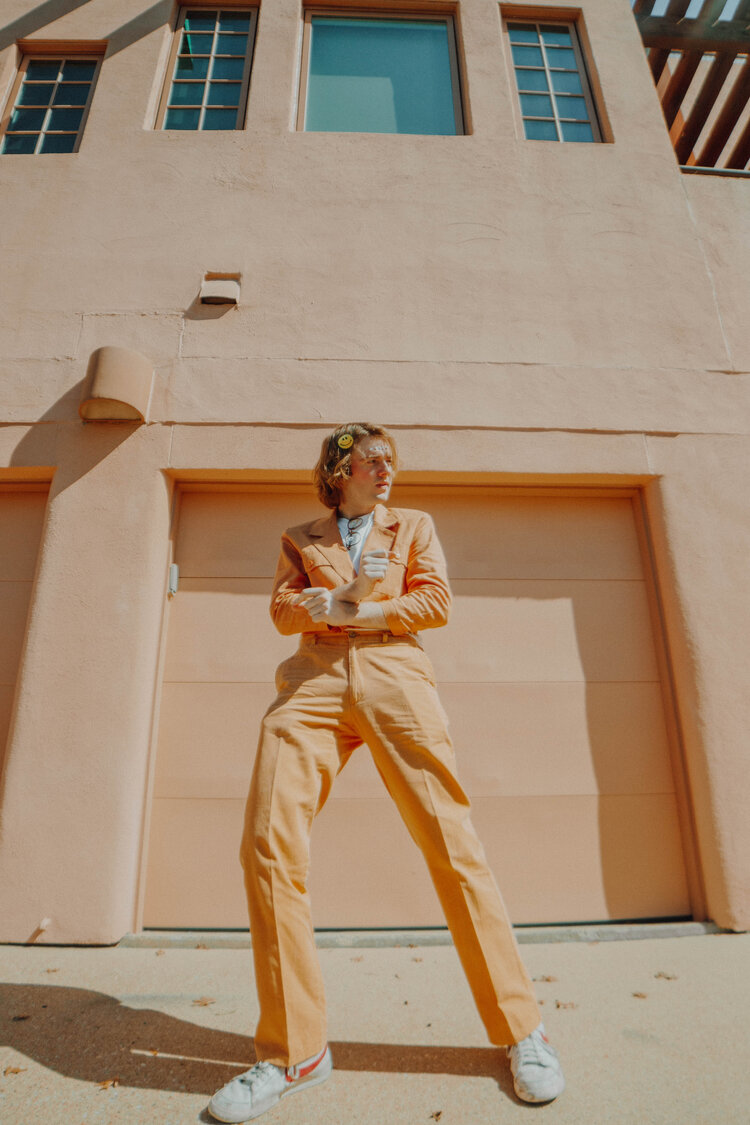 What immediately strikes me about Struble isn't just his sincerity or his crooked smile. It's a contrast between the exuberance in his performances and the laid back humility in his real-life demeanor. He's like a twenty-year-old Mr. Rogers.

There's an old saying: You work 10 years to become an overnight success. What's been a "pinch me" moment for you so far? I was touring quite a bit this fall and winter, and all that was awesome. But it didn't really click with me how great it was until afterward. Going and playing in the UK — I did support for Hobo Johnson — was a moment where I was like, 'I'm playing in front of pretty big crowds in a foreign country. What's going on here?' Playing ACL in the fall was also a very pinnacle moment for me. That was just crazy.

Your music video for "Can I Call You Tonight?" has blown up on YouTube. It's your most well-known video, but it's also your most DIY — just you and a friend shooting and editing in your childhood bedroom. What was the thinking behind that? I knew I had no budget. I wasn't working with anyone, and I didn't really want to make an awesome music video. I wanted to show I don't take myself too seriously. My friend left a green screen at my house from this thing we were filming, and then we just made it in like 20 minutes. Then, we googled 'royalty free green screen effects' and threw it together in iMovie. I think it's wild that something could blow up on the internet and literally become a career.

Why do you think your songs stand out to so many people? I don't know. I feel like my answer is usually I'm just lucky. To an extent, I definitely am. I'm super blessed it happened to me. It wasn't very rock and roll — it just happened on the internet, and then, my first tour sells out. I try to stay true to who I am, and I think it's refreshing to a lot of people that I don't make sad e-boy music. I think I filled a void in bedroom pop.

It's very trendy, for lack of a better term, right now to mope and think the world sucks. And it kind of does. But I tend to believe that there will be better days. I wanted that to show through my music. I really look up to Mr. Rogers. People are finally starting to recognize how incredible he was. Once in an acceptance speech, he asked, "How do we make goodness attractive?" That's kind of like my mission — finding a way to make "good" cool.

How does knowing that a lot of people are going to be listening or watching impact your creative process? I'm definitely a people pleaser, and I've had a handful of moments in the past year where I was just so overwhelmed with anxiety because I want people to feel cared for. I'm learning I have to let go and take care of myself. I'm really thankful that this journey has made me grow a lot in the past year. I feel like I've skipped over two decades. I was on the phone with a friend yesterday and was like, 'I feel like I'm 75.'

Later that week, I meet Struble on set. Our makeup artist announces that she's starting on his makeup. He prefers a light and natural look. She whips out the blush and lets him know she's "going in." Struble admits that despite his "quirky," self-made persona, he's not the extrovert many assume Dayglow to be.





What caused you to pick Dayglow as your stage name? I was attracted to the idea of having an artist's name that I could hide behind. I didn't want to have a big ego moment. The name Dayglow came from a song called "Day Glo" by an artist named Brazos, who's actually from Austin. I didn't want to overthink a band name — I was just really into that song two summers ago. It kind of makes it different that my stage name is something that's apart from me. I want balance between me as Sloan and who I am as Dayglow.

People meet Dayglow when you're performing. But what's Sloan like offstage? I'm fairly introverted. Not in the sense where I don't want to be around anyone, but I don't thrive and recharge around a bunch of people. Dayglow is a very 'everybody let's be together all the time' kind of mindset. Me as a person — I like either solitude or one-on-one time with people.

On the previous tour, I would go out and talk with everyone after shows, and a lot of people were like, 'you're so crazy on stage, but you're so chill right now.' I don't like that buffer or wall that happens between fan and artist. I don't ever want someone to feel like they've met a version of me. I want them to feel like they've met me, and that I'm being genuine. Dayglow is me, plus extra goodies.

What's something that Dayglow would do, but Sloan wouldn't? Stage dive (laughs).






We're on a city golf course in broad daylight as Struble cracks jokes while riding down an incline on a tricycle made for a toddler. In front of the camera, he does everything from cartwheels to spinning a ball on his finger — Struble's "party trick."

But as we move across the green to scout a new spot, he walks silently behind the Spark crew. He stands with noticeably good posture, hands clasped behind his back as he waits for the photographer to set up her shot.

Struble's rainbow getup strikes a whimsical juxtaposition against the manicured grass. His outfit may be distinctly Dayglow, but for now, he's definitely Sloan. ■






By: Laura Laughead

Layout: Angie Huang

Photographer: Paige Miller

Stylists: Sage Walker & Shannon Homan

HMUA: Jane Lee