Deeper Dressing: How Euphoria Tells a Story Through Fashion
November 1, 2019 / Shannon Homan
Neon lights frame our characters and invite us to step out of our living rooms and into the colorful and captivating world of Euphoria.



Euphoria is an HBO series that follows the life and times of a group of Generation Z teens who are struggling with anything from your average heartbreak all the way to addiction. Teenage-centric shows have a tendency to live in a weird space between sickly sweet or just frankly out of touch. Euphoria strikes the right balance and manages to create a world that can have serious conversations about addiction, sex and the complications of growing older without any after school special cringe. Although it might not be reflective of the life I led as a high schooler, Euphoria doesn't caricature real-life problems.

It balances fun, reality, scary real-life situations and the personal journey we all go through to find ourselves. One of the ways Euphoria elevates and validates their teen's stories is through its production design. Euphoria's creatives handcraft the visuals we see to back up every detail of the storyline in a way that makes them even more real. Euphoria is constructed out of the kind of world-building that dreams are made of.



To bridge the gap between the dreamy world and the reality of the characters, Euphorias costume designer Heidi Bivens uses clothing to play with the internal life of the character through the external world of style.


MADDY


It's easy to recognize Maddy in the crowd of characters: she's as complex as her crystal eye makeup, carefully made up of intricate plot points and star-studded two-piece sets. In an attempt to pave together a better life for herself, Maddy quickly learns how to manipulate and cajole others. The power structures in her world are revealed in episode three when Rue tells us:





"SHE QUICKLY REALIZED THAT THERE ARE TWO KINDS OF PEOPLE IN THE WORLD: THE PEOPLE WHO SIT IN THE CHAIRS, WITH THEIR FEET IN THE FOOT BATH. AND THE PEOPLE WHO KNEEL IN FRONT OF THE FOOT BATH."



Maddy's family is made up of the proverbial "kneelers" and to escape this, Maddy adopts the person she wants to be through her clothing to better. These choices allow her to better control those around her.



Euphoria's visual team creatively shows Maddy's character development through her clothing and makeup choices. In the early episodes, her makeup is sweeter and subtler, but as the layers of her relationship with her boyfriend, Nate, are peeled back and reveal its toxic nature, we see her power and clothing shift. Although not explicitly stated in the script, Maddy is no longer playing the role of the sweet girlfriend and her clothing reflects it. She is metaphorically bigger, taking up more space even when others try to keep her small.

Let's not forget the iconic two-piece purple set she wears to town carnival — even when it upsets Nate and his family, she is unapologetically herself and refuses to change and be a trophy at his dad's chili stand.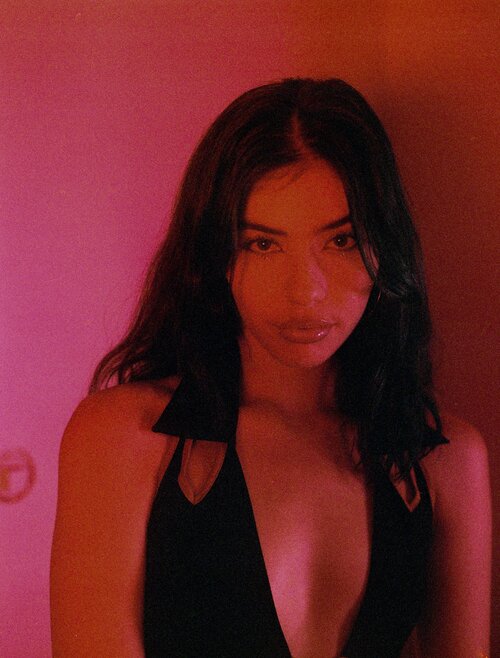 INSTEAD, MADDY AND HER BEST FRIEND, CASSIE, GO ON A PSYCHEDELIC JOURNEY THROUGH THE FESTIVAL — A POWER TRIP OF SORTS THAT PROVES TO VIEWERS THAT THIS IS MADDY'S WORLD, AND THOSE AROUND HER ARE JUST LIVING IN IT.



Kat, Maddy and Cassie


KAT



Kat seems like the most average high school girl; at the beginning of the season when she attends a party, she is wearing a Hawaiian shirt, a thrifty and quirky teen fashion staple.


Her clothes, although not ugly, pale in comparison to her surrounding friend group. Kat self-identifies as fat, but Euphoria's team decided to step away from the age-old stereotypical fat friend role and decided (smartly) she would be one of the deepest and strongest characters on the show. The show's writers successfully create a dialogue where Kat openly talks about her weight, but never equate that ugliness.





INSTEAD THEY EMBRACE IT, AND AS KAT PUTS IT, "THERE IS NOTHING MORE POWERFUL THAN A FAT GIRL THAT DOESN'T GIVE A F**K."


In fact, her friend groups storylines at times pale in comparison to her secret life, where she is secretly a popular one direction fanfiction writer. While exploring sexual expression through the internet, Kat dabbles in being an online dominatrix and eventually dons the clothes that others would consider as taboo as her hobby. Her outward transformation is about power in a different way than Maddy's.



Rue and Jules

RUE



Rue is our main character, and though she seems to have the simplest style of all, her clothing is her personal anchor — an anchor that has drowned her in addiction and pain.


Viewers follow the recovering Rue through the first season; she has just come back from an unsuccessful stint at rehab and is trying to find her place in the world, all while jumping through hoops trying to fool others into believing she's sober. In any given episode she's wearing tops that are about three sizes too big, hoodies that are just as large and loose pants or biker shorts.





HER DRUG ADDICTION AND CLOTHING CHOICES ARE ALL BASED ON THE SAME THING: A GREATER DESIRE FOR COMFORT.


She has grown up with extreme anxiety, OCD and ADD and has been seeking "normalcy" her whole life, a way to dull the pain she has felt all her life. Some might describe the clothes Rue wears as boring or simple but they're the world Rue needs to surround herself with to stay sane. Many of her oversized clothes belong to **spoiler alert** her father who has passed away.

But, her style shifts dramatically when she befriends Jules.






Her love and relationship with Jules slowly replaces her past comforts; she begins wearing crop tops and dressing more like a teenager and even eventually a dress to their winter formal. Though this seems like a step in the right direction for Rue, she makes these changes in an attempt to obtain thee seemingly unattainable Jules.





IT'S THE SAME SENSE OF COMFORT THAT HAS DRIVEN HER FROM THE BEGINNING, EXCEPT IT'S TAINTED WITH A LOVE THAT MAY NEVER BE.


Euphoria makes it clear that generation Z has broken the limits of what is "cool" or "in" and has instead invested their time and energy into their individual style. This is a reality that the designers of Euphoria clearly understand; each character is driving a proverbial car and creating the version of themselves they want to see.





This is what moved me the most; although I may not dress the same way these characters do, at my core I understand how they feel.


Clothing has taken on a greater meaning within culture and it has evolved past just being about status or fitting in. At first, Euphoria seemed like a fantasy world splattered with glitter and neon lights. But, it made way for the Euphoria generation, where your clothing tells the story of who you are, whether the world likes it or not.





SO GLITTER TEARS OR NO GLITTER TEARS, NEON LIGHTS OR LEATHER HARNESSES, EUPHORIA SHOWS US THAT OUR GENERATION AND THOSE AFTER IT HAVE THE TOOLS AND FORESIGHT TO WEAVE OUR OWN REALITY. •
By: Shannon Homan

Photography: Abhi Velaga

Models: Megan Bennett, Talee Jones, Christian Kenoly, Tosin Anjorin

HMUA: Mariam Ali, Sarah Stiles

Stylists: Shannon Homan, Maya Halabi