Fall Fashion: NYFW Edition

March 6, 2019 / Spark Magazine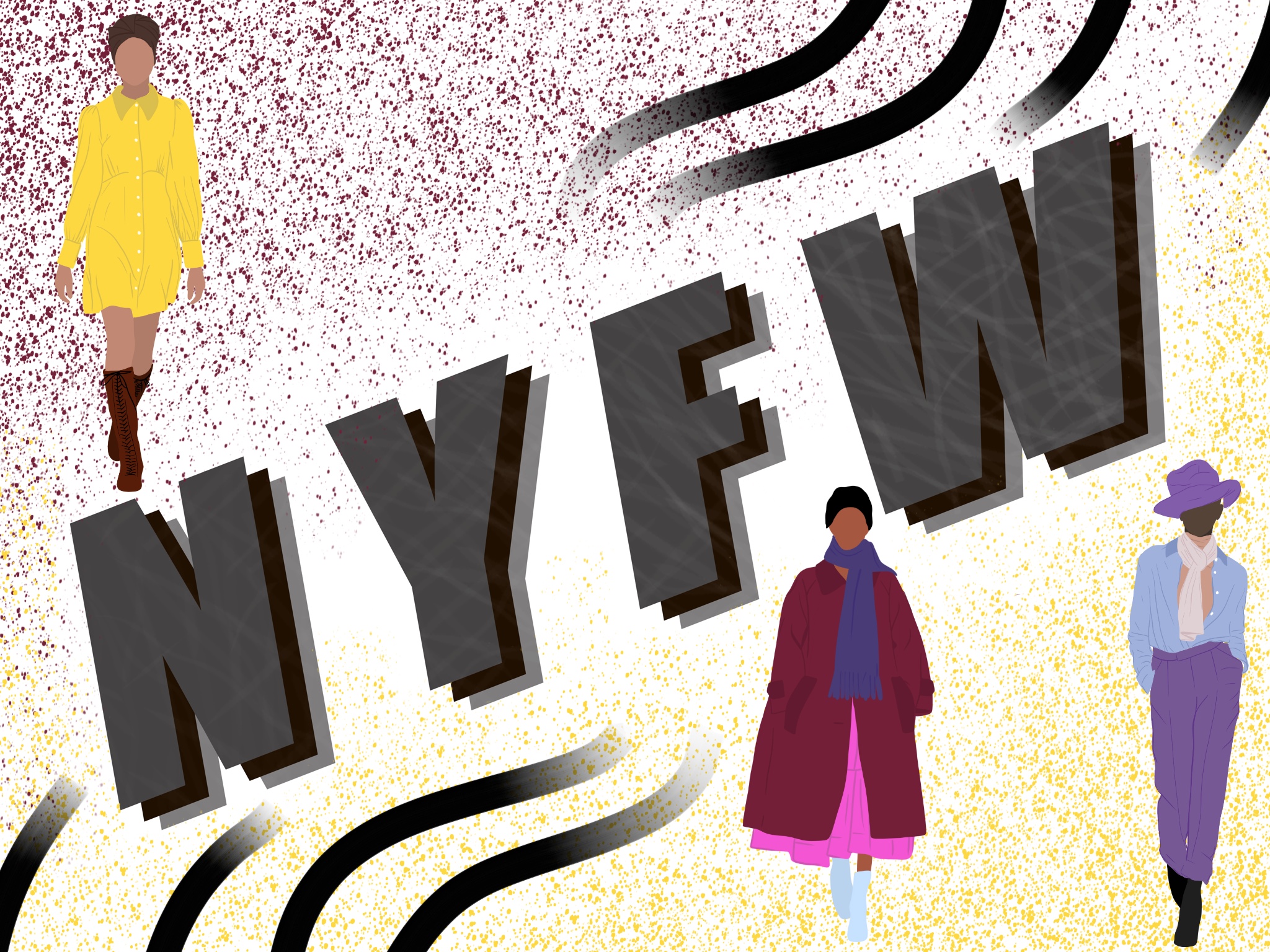 Y'all … February is here, aka the fashion holy grail. First up we have New York Fashion Week, which took place from the 4th to the 13th (just right before Valentine's Day ❤️) and featured almost one hundred designers from around the globe. If you didn't have a boo this year, wipe your tears away kings and queens. I'll be giving you the NYFW highlights so you can check out trends, gather inspiration and look fly as hell as we head towards fall.


STREETWEAR

If you're into street fashion, look into Todd Snyder's Fall Menswear collection, featuring a mix of bright colored corduroy suits and pants and long puffer multi-colored jackets. This collection overall had lots of really interesting prints, bright colors and comfy, loose fitting attire. Another brand that chose a really bold approach was N. Hollywood Menswear collection, which featured loose fitting jumpsuits, pullovers and jackets with bold patterns, bright colors and soft textures. Similar elements can be seen in Landlord's collection, specifically with bomber jackets and lots lots lots of pockets.On the other hand, CDLM featured streetwear with an almost apocalyptic twist to the clothes. For the most part, they appear to be gender neutral. The colors, except for a bright red and lime green, are fairly neutral and muted.


PROFESSIONALISM

When considering professionalism, or fashion for the workplace, there were several designers that stood out to me. The Row, for example, with oversized turtlenecks and coats in varying shades of tan, black and white, created a collection perfect for early morning meetings on a rainy day. Similarly, if you aren't already obsessed with blazers and coats, Helmut Lang's collection will make you fall in love with them for the rest of your life. Not only are they tailored to perfection, they're sleek, elegant and versatile enough to be used both in the workplace for a touch of color or night-time glamour. Nevertheless, I would say Kate Spade's collection is the way to go for colorful, business-casual wear. Their rich jewel toned and pretty pastel colors will make you feel effortlessly elegant in the exhausting 2 pm workplace flow. Also, can we just take a moment to acknowledge this work of art? Stuuuunning.


FEMININITY

For chic and feminine collections, Simone Rocha's collection really impressed me this season. If you're looking for fun pastel pops of color, see-through trench coats, exaggerated puffed sleeves...look no further. Their elaborate patterns and beaded headpieces were a really interesting spin on the collection's feminine, princess-like vibes. Rachel Comey's collection also proved fall can be fun and sophisticated, namely with their colors and prints. The collection felt very youthful and had a very nice energy that stood out to me amongst all the other designers. Seriously, y'all need to check out their baby blue coat and pink dress, I dieeeeed. Another one was Marchesa (one of my all time favorites), who always deliver delicate and feminine touches to their garments through their floral prints and embroidery. This collection will take you to a whimsical, dreamy alternate reality where you're the queen of spring and love.I'd like to close off this section with Christian Cowan's collection. It was big, bold, large, in charge and unafraid expression of femininity. Cowan chose an array of bold colors, rhinestones, feathers, tulle and the infamous watch gloves Cardi B wore for her Money single's album art. While every single look in this collection was absolutely stunning, my favorite was at the very end: a sparkly hijab. To me, this sends a powerful message about the inclusivity and versatility of fashion. Cowan certainly makes clothes for those who fearlessly command attention.


DIVERSITY & ETHICS

I would also like to mention several brands that stood out to me not just for their clothes, but for their message. Gypsy Sport's models looked like the world around us: people of all genders, sexualities, races and body types. Their collection's underwear for outerwear style sparked a conversation about feeling sexy, confident and being bold about our sexualities. Another conversation starter was Deveaux, who's collection featured an 82 year old man and a young girl no older than 10, along with many other ethnically diverse and multi-generational models. Furthermore, Gabriela Hearst's collection chose to focus on sustainability. Hearst's front row had representatives from Our Children's Trust -- a non-profit focused on climate change. Having the representatives in the front row left a positive message on what it means to be sustainable in fashion.


THE CLASSICS

You've heard of brands like Marc Jacobs, Oscar de la Renta, Tom Ford -- but how did they do this collection? As for Marc Jacobs, do yourself a favor and check out this oversized magenta coat and stunning green dress. Every inch of that dress is flawlessly stoned and glimmering against the emerald green. Let's not forget the sparkly sock heels either, which were common motifs in the collection.Oscar de la Renta, as expected for a fall collection, featured a variety of coat designs with a more traditional fall palette: maroon, brown, greyscale and yes, burnt orange 🤘🏼. Tom Ford took a different approach to his collection with pastel colors and textures. I was stunned when I saw these fuzzy hats, and his velvet suits look like something custom made for Harry Styles. Also, this white coat? Beautiful. Tom Ford has such a talent for finding flattering silhouettes, tailoring them to perfection and integrating eye-catching fabrics and colors for a unique twist to his craft.


TAKEAWAY

Overall, although I didn't cover every brand, this 2019 NYFW showed several trends like oversized coats, corduroy and prints. Look for more of these trends on the market, and don't be afraid of adding these to your own personal fall style lookbook. As always, have fun exploring and experimenting with fashion, find ways to be inclusive to the many people that walk this earth, and be sustainable in the process. Fashion should be fun and exciting; feel free to gather inspiration from these designers and their brilliantly creative minds! •






Written by: Divina Ceniceros Dominguez

Graphics by: Jasmy Liu



Divina Ceniceros Dominguez is a sophomore Journalism major. She's written over fifteen issues in several Texas-based magazines focusing on lifestyle and culture. She's very passionate about her plants, breakfast and making statements through fashion.