Femme Fatality

December 12, 2022 / Ellen Daly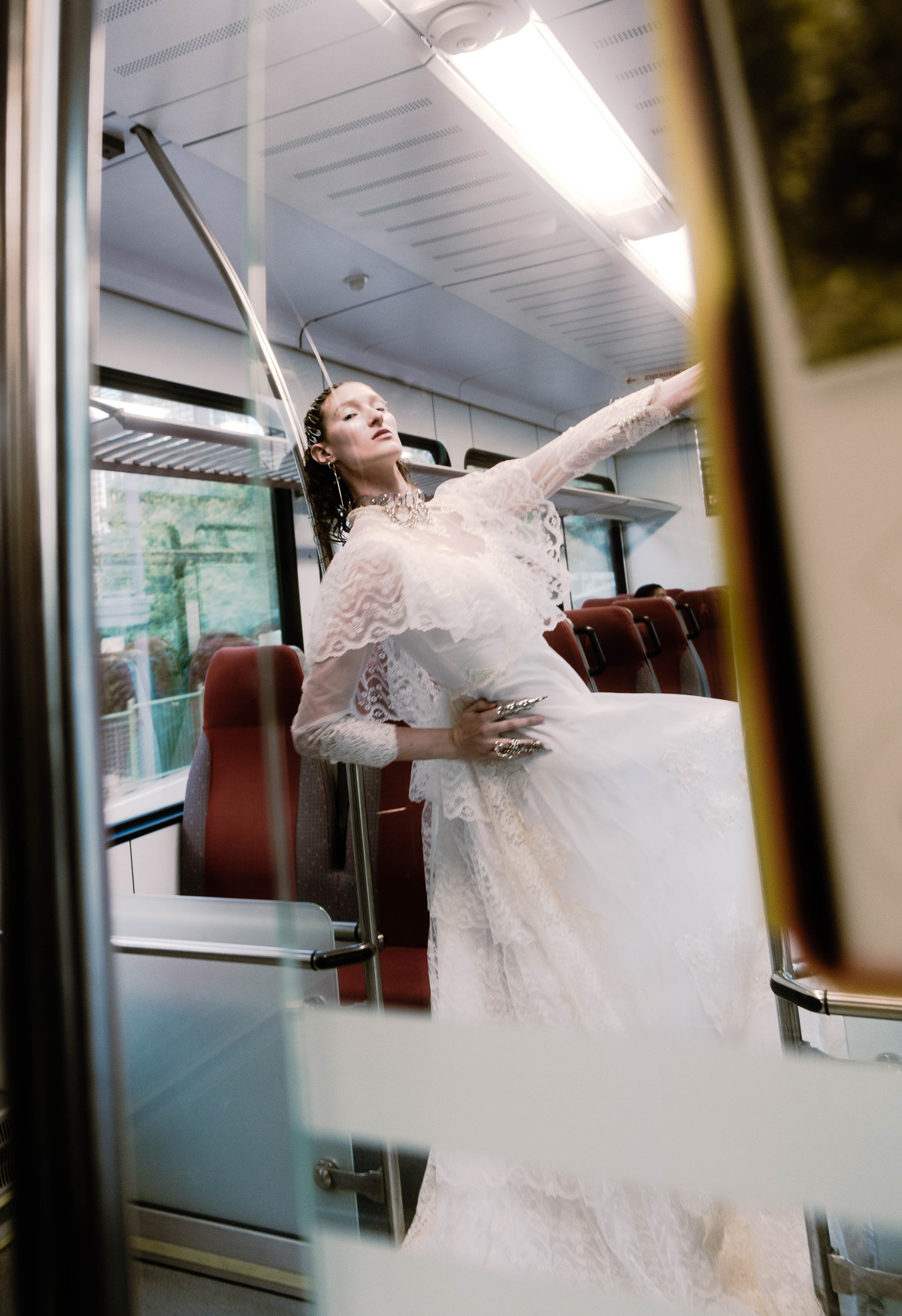 Having always prioritized professional pursuits over recreational and romantic ones, I'm beginning to wonder whether I'll ever be a mother, or if I'm fated to live as a machine.


"I think it'd be fun to have male roommates. Maybe I'll do that later in my twenties. When I'm like, 26 or something."

"I'd rather have a husband by that age."

My friend turns to me in horror.

"26? You're gonna have a husband by 26?"

"If I'm married by 26, shoot me," my other friend chimes in.

I'm not embarrassed. I'm practical. In fact, it's my very practicality that has led me to this moment, at 21 years old, where I'm beginning to worry about my fertility. As long as I can remember, I've been obsessed with being "productive," with academic achievement, with making Quizlet sets that my entire high school would use to pass their tests and even turning my chosen form of creative expression—writing—into a career path, something to monetize. Now, I worry it might be time to put down the pen and pick up a man.

"My mom got married at 26 and she seems plenty happy in her marriage. I think they're lucky to have been together so long. I'd be lucky to be so lucky!"

They roll their eyes.

"Look, I want to be a mom. I always have. If I had to choose between working any job in the world and having kids, I'd have kids! It's something I know I want to do, and, if I'm being completely honest, I'm worried about my fertility."

"Your fertility?" As if the subject's never crossed her mind.

The rest spills out of me: my period that keeps going away, my feeling of selling myself like meat every time I open a dating app, my lost friendships and flirtations I deem personal failures. My fear that I run people away like my menses. Both sides are baffled: my friends, at the severity of my existential angst, and I, that my most haunting worries are total strangers to my closest friends.

When did mothering become so taboo? I'll admit that just a few years ago I too considered the idea of being a young mom a death sentence, but now it sounds peaceful, relaxing, fulfilling even. Back then I lived under the false pretense that work was going to fulfill me somehow; through trial and error, I've debunked that capitalist myth.



I think about my childhood. How badly I wanted to mother. Between myself, my mom, my two sisters, and my traveling-for-work father, my household was very feminine, making womanhood itself a deity of sorts. Play was our prayer, and "house" was our favorite game, with the role of mom being most coveted, of course. When I was five, my mom and sisters and I even traveled to our Mecca (the American Girl store) where I first saw God in the face of a plastic doll.

I was lucky. My mom was, really. My dad just happened to make enough money for her to be able to stay home to raise me and my sisters. It was a wonderful childhood—delightful, truly—all dependent on my working dad's dime.

I traded play for work at far too young an age. My earliest memories of workaholism are from fifth grade, when I, at 10 years old, obsessed over my schoolwork. I went above and beyond, creating study guides, flashcard decks, sometimes even animated PowerPoints to review material before every quiz or test, despite never having had a problem paying attention in class or recalling information. Perfectionism was my drug, a pill I popped every day from the end of elementary school up until some point in my junior year of high school—when, against all odds, my depression finally beat my anxiety.

I didn't date. Didn't go to parties. Didn't even hang out with my friends much outside of school. I did, however, play basketball, softball, and lacrosse; compete on the mock trial team; babysit or tutor most nights of the week; hold leadership positions in multiple honor societies; intern for a congressional campaign; and lead an organized protest for gun reform at my school. To me, my work was my worth, and I always ensured that my value went up.



If my teenage years were defined by the obsessive aspiration of my dad, my 20-somethings so far have aimed to frame relationships as the focus of my life, like my stay-at-home mom does. This hat doesn't quite fit, though, since I spent my teenage years fighting my feelings to stay focused on my schoolwork, mastering the art of emotional repression. Relationships are frivolous, petty things! Dating is so silly! Get your bag, girl! You don't need a man! This is perhaps the greatest evil of capitalism: its inherent suppression of human emotion. I developed a coldness, built a wall between myself and potential lovers, one that I punch and kick until my muscles tire and fists ache but can't quite seem to break.

Besides, if you're not working, do you even deserve to live? The U.S. essentially says no. The problem there is that there's no economic value assigned to home care. It doesn't pay to raise children, care for the sick, aid the disabled, and it is certainly no coincidence that these populations are less likely to produce labor. Refusing to value the giving of care fails not only our most vulnerable populations, but the many who would be fulfilled by these labors of love.

At 21, I romanticize "tradwife" aesthetics, falling victim to the idea that a working man could free me but quietly knowing that is not the case. I revere the women who paved our way in the workplace but know too that that is not enough. The shortcoming of workplace feminism is its dependence on an economic system where freedom is gained with capital. How free are we, though, if we are not free to mother? If we cannot bring life into the world because we spent our window of fertility preoccupied with work? Or, if we are so lucky to bear children, if we are not free to mother them in precisely the way we would if we could bless them with all of our time?

For me and for many, work alone is not liberation—love is. This love we may only know through the fostering of intimacy: through first kisses and first breakups, held gazes and held hands, wiped bottoms and wiped tears. Forced labor doesn't merely rob us of our time: it robs us quite literally of the fullness of the human experience.

"I just want to be a mom," I sigh. "I've always wanted to be a mom." ■






By: Ellen Daly

Layout: Charlotte Rovelli

Photographer: Rachel Karls

Stylists: Isabel Sitar

Set Designer: Nia Franzua

HMUA: Emely Romo

Models: Payson Kelley





View the full spread as it appeared in Issue No. 19

here

.