Forever and Always, Willie Pearl

December 7, 2022 / Olivia Marbury



My grandmother taught me how to twist and braid, make her famous dressing during the holidays, and most importantly be a strong, black woman because there was no other choice. She left her mark, and I've always wondered how I'll leave mine.



"Over and under, then over again. Borrow a piece from the third strand, remember that one — that's your giveaway strand," my grandmother would glance over here and there as she listed off instructions on how to cornrow. Her gentle, soft hands and signature red nails hopelessly tried to correct the twist I'd been focused on, as I ignored directions and blissfully continued what I knew I was good at.

My grandmother was visiting Texas from Danville, Illinois, and we were sitting on the dining room couch. It was just us that afternoon in the corner of our little world. Nothing could distract us from the moment, nothing breaking the focus on something as simple as a cornrow or a twist on a Barbie doll's head — the two Pearls.

I can see so clearly her naturally long nails painted a shimmery ruby red, her pin-curled and wrapped hairstyle that framed her face perfectly, and her beautiful freckles and moles that looked like God himself took days upon days placing upon her flawless face. Not a wrinkle in sight (Black don't crack), only a glow of wisdom and love.

Willie Pearl passed down more than just her middle name to me. Her unfiltered sense of humor is something I picked up on (and often reap the consequences of). Her distaste for snakes was a quirky, valid fear that she also passed down. If something was on her mind, she'd say it. The countless aphorisms by which to live had a way of sticking with you, and I catch myself repeating these pearls of wisdom in the most trying of times.

Willie Pearl left behind a line of people who loved her dearly; she built, watered, and cared for a family tree that flourished. She never neglected any addition or branch and ensured each of her babies was equipped for the world.

Mom, Grandma, MawMaw, Shorty, Mrs. Marbury: Willie Pearl. She taught each of us what love was, what being a woman of God was, and what not just surviving, but living was.

"Keep on keepin' on," she'd make sure to remind me after each conversation over the phone. Willie Pearl would never say goodbye before hanging up, but "see you later" — and that I will.

Legacy is more of a hope than a reality, but my grandma succeeded in leaving a damn good one.






Legacy — it's an idea that's primal, forever etched in the back of our minds. Something we're always chasing, a life we're living for someone else with the hope that we'll be a glimmer of remembrance, through a butterfly or broken memory, when we're long gone.

I'm bound to surrender to death; that, I can't control. But what I am leaving behind is more in my control than ever. What I have to leave behind is reality. In my digital footprint, the mundane and the beautiful are offset by the ugly. I can see what I was doing one, two, three, and four years ago to the exact day. There's no way to romanticize the picture of the food I dropped on the floor or the nights I cried myself to sleep stressing about anything and everything.

Because I leave behind reality, I leave behind the truth. I have access to my digital book of life, where I see myself grow as a person not only through introspection but through documented reminders.

Snapchat reminders of friends who did me wrong from years ago. The visual diary of how lost I felt when I first stepped onto campus and the confusing, heart-wrenching adjustment it was to be on my own for the first time. The recorded firsts and lasts and the excitement and fear that came with the unknown. My legacy is within the hyper-documented, ugly, tearful, beautiful, funny truth and can serve as a step-by-step guide through life for my future daughters and granddaughters alike.

Rich in authenticity, but lacking the glow of nobility and romance: A story of my life fills gigabytes on my phone. A story from girlhood to womanhood — and the beautiful mess it is — will one day unfold right before my descendants' eyes.

What I would do to see my grandmother through a lens aside from the maternal, mature woman I knew. It would be such a surreal experience to see the tragedies and triumphs documented completely. To be able to see the excitement on her first day of school or her experience traveling in detail. If she grew up in the digital world with a phone documenting her life not only for her eyes but for her future granddaughters, would the purity of her persona fade? If I were able to see the little girl she started as and the young lady she became, as well as the wise woman I loved, would the raw details spoil the sweet nostalgia?

The access I have to my memories of my grandma is limited and from a distance, which in turn makes them perfect. I remember my grandmother and the bliss that she represented, pieces of moments painting the perfect mural in my memory. A sitcom that plays through my mind, where nothing ever goes wrong and every memory is more vibrant and lively than the actual occurrence.

The photo albums I flip through that are filled with the relatives I pretend to know and at whom I shake my head when asked if I recall them, tell partial stories of full lives. An incomplete puzzle with missing pieces purports to show the full picture of who those who came before me were. The dusty boxes under the beds in Danville, Illinois, where my grandmother now rests, are the legacy of us all.

The black and white pictures turn into colors through romanticized memories. The still, captured moments transform within the imagination into moments full of love. From the holidays in my grandma's home, family reunions, and my grandmother's surprise birthday party, they transport me to the moment. I can smell the greens and dressing and mac & cheese through the glossy papers, and I hear the music that makes my soul dance to this day.

It's my past, and I'm nothing without it: the forgotten pain and clear remembrance of joy all muddled up and passed down as the same.

Generation by generation, we're granted the privilege of access to stories that for so long was impossible for many Black families like my own. The countless lost stories within my blood create a sense of estrangement. I'm just now able to know the names from five or six generations back thanks to technological developments, serving as a reminder of what a blessing it is to leave a trace with ease.

My legacy is none of my business, whether I end up leaving one or not. My business is life, the present, and I aim to have a fraction of the impact on others that my grandmother had. As memories get more complicated, becoming more than just something in our minds but replaced by data on a chip, nostalgia's sweetness becomes bitter. Still, I keep my grandmother's simple lessons close.

The lessons of not only how she'd churn butter in Alabama but on the simplicity of life — to "keep on keepin' on" and not to act ugly because "God don't like it" and I wasn't raised that way — are imprinted on my mind, sewn into my soul. These eternal messages enlightened with wisdom follow me wherever I go, forever living, breathing, and influencing my life.

Willie Pearl, you will be in my heart forever and always. ■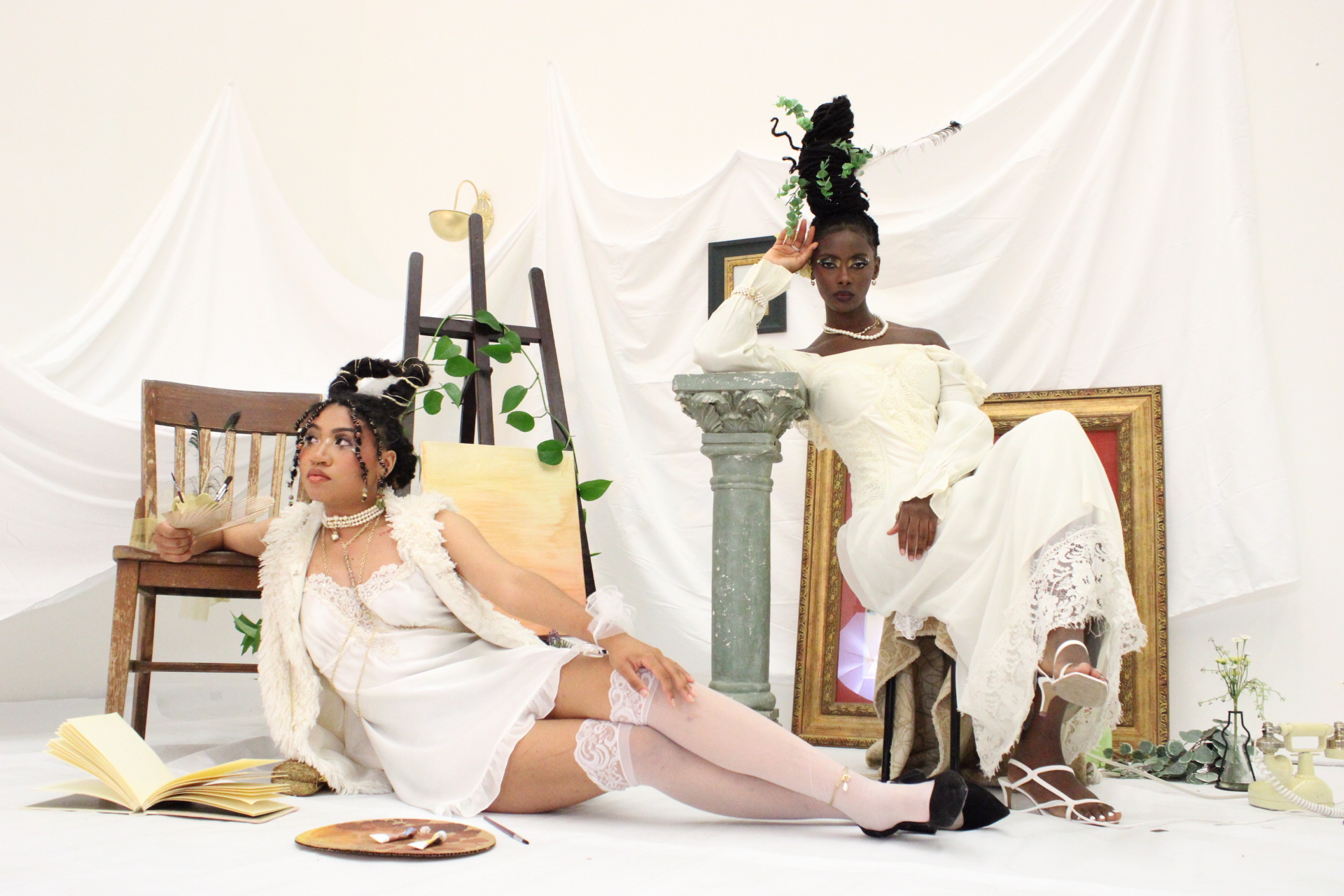 By: Olivia Marbury

Photographer: Via Ceasar

Models: Shareefa Gyami & J Hayden

Stylist: Prince Fofanah

HMUA: Reagan Richard



View the full spread as it appeared in Issue No. 19
here
.