If These Walls Could Talk


May 1, 2022 / Olivia Marbury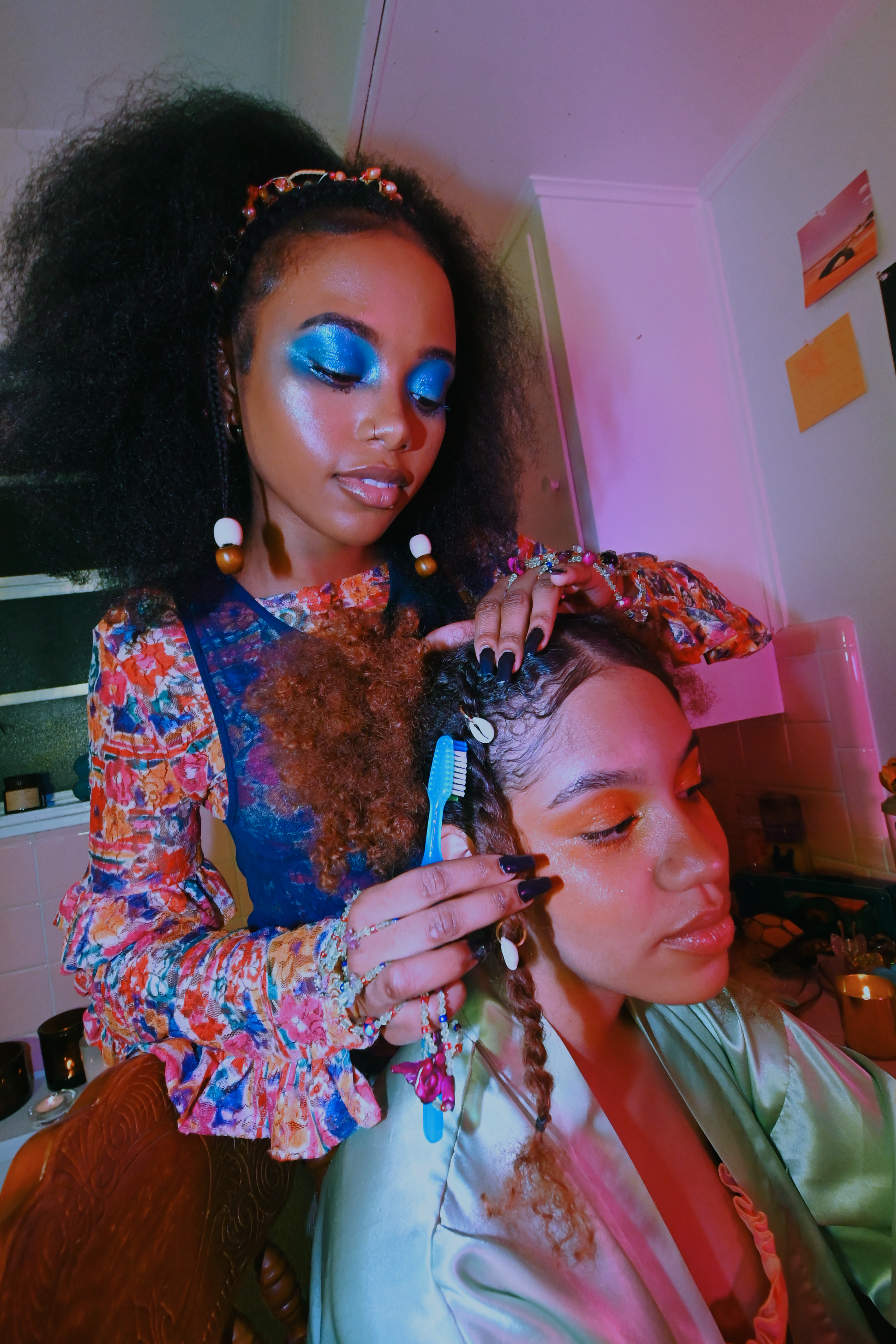 The walk of shame into Kesha's Salon with my knotted, flaky hair gelled back into a ponytail was just as routine as walking out the salon feeling like a new woman.

I was welcomed with a flood of combined smells of products, smoke from hot dryers, noise from the T.V., and pre-existing conversations. I could always count on a hug, or "Quick squeeze!" as the magic hands of Ms. Kesha put it, to complete the warm embrace. This consistent greeting was something I looked forward to every other Saturday at noon as I prepared for the oh-so-taxing duty of sitting in the salon to get my hair done.

My hair and I have always had a complicated relationship⁠— toxic, even. I've never had something gaslight me like my hair has. My press would be perfect one moment, but as soon as a drop of sweat came into contact with a follicle, my hair would fight back in retaliation and curl up at the roots. How could something that provided so much confidence also have so much power to drain it?

Though I could thank my nappy hair for building my muscles during the necessary detangling process — the late nights, broken combs, and tears rolling down my cheeks while I tried to figure out how to care for my delicate curls were nothing short of a curse in my book.

Uniqueness is something I've always admired … on others. Oh, the resentment I held for the "untamed" mane I saw in my reflection. "But it's not done," I whined all too often at home after the DIY press and curl. By the fifth grade, it was time for the real deal: A day at the salon.

Exchanges of laughter, discussions of politics and current events, and voices humming "girlll" in agreement filled the salon with sound. Conversation with clients often began with compliments and would quickly snowball into ridiculous encounters, life stories, and wisdom-filled advice. Because I was surrounded by women who looked like me, the possibilities of who I could be seemed endless.

Hair day was a full day. The experience was a privilege my parents graciously allocated into the budget and a day my mom set up as an expectation from a young age — an expectation, I'm sure, my mother now regrets. She's always questioning how I came to be so high maintenance, as if I wasn't conditioned to be so.

The salon was a place of anticipation. Four fluorescent purple walls housed mystical tools and products ready for work. The musical chairs of the half-done heads on which Ms. Kesha worked her magic on had a flowing rhythm. Following the direction of conductor Kesha, I'd switch to the dryer, sink, or any open seat, carrying my folders of schoolwork to where I was instructed.

The sink was where the worries disappeared. The head massage and tingling tea tree shampoo combo dissolved any remnant of a thought. The reclined chair and salon cape that acted as a blanket made it hard for me to keep my eyes from rolling back and my mind from entering a trance. Just as I dove deep into the hypnotic powers of the wash, the moment would be quickly interrupted as the dryer awaited.

I would sit patiently under the hot dome until my ears turned red, waiting my turn as each client who came before made their way to The Chair. I was one step closer to ridding the humbling experience of my pin-straight, flowing hair transforming right in front of my classmates' eyes into a stiff James Brown do. To distract myself from the stinging heat, I'd keep my head down, focused on my book or my algebra homework attempting to hold in the excitement of my hair finally being done.

Just as I'd thought I was forgotten, I'd finally make it to The Chair. The Chair, in all its glory, was placed in the center of the salon and where the style I requested was executed perfectly. It was the final destination. Section by section, the hot comb touched my roots and the flat iron flipped my ends to create the perfect bounce of my hair.

Every appointment, I'd walk into the salon with the intention to only observe, to be a bystander in the experience. I had the impossible goal of somehow learning how to act, how to speak, and how to operate as I grew into myself as a Black woman. The ritual of hair day doubled as Black girl therapy. The salon became my sanctuary and confessional, Ms. Kesha the priest with an open ear.






I went from sharing the many stressors that fifth grade brought, to updating Ms. Kesha on college acceptances and plans for the future. The salon was where I'd open up and often rant about the amount of uncertainty I held in the head on which Kesha was meticulously parting and styling. The Chair was where I'd vent about my petty drama and the countless dilemmas that my future held — and where I'd hear many other women do the same.

Hair became more than just strands that grew from my head; it was a source of untouchable confidence. Each style introduced a new version of me to myself. My press and curl made me move differently. I gave myself whiplash from dramatic hair flips when my hair was straightened. My box braids were one of my favorite protective styles I had done routinely by Kesha. What relief braids provided. As a protective style, I'd wake up with my hair done needing to do nothing but take off my bonnet and go. With the perfect, clean parts and flawless blend of colors, the few hours the style took to get done was nothing compared to the time it saved day by day. Each look welcomed a new alter ego.

It was when I finally learned to love my hair in its natural state, that I truly felt like myself. The afro I once wanted so badly to shrink and make disappear became a style I aimed to be seen. I no longer felt the need to conform and have my hair hang, making sure it was similar to a majority of my peers'. For the first time, "unique" was boldly intentional — and it looked and felt good on me…

Different styles didn't only make me feel different, but affected the way I was treated. When my hair added to my height, was picked in the air and surrounded my head instead of falling down my back, I got more stares, more hands launched towards me to be pet, and had to answer more and more questions by simply existing. I'd get genuine compliments here and there, sure, but I loved my natural hair not because it brought about any type of real positive attention, but rather, because it took guts to wear out in an environment where it was rarely seen.






The hair styles changed with the times, as did the conversation, but the importance of the setting never did. The Appointment was something all of the women in my life secured and an experience that was made sure to be passed down.

The salon is where I saw my late grandmother relinquish control. I'd sit and watch as she got the rolled, pin-up style she'd gotten my whole life done. A calmness swept across her face while the stylist massaged her head at the sink. She'd follow the motions of the salon, making her rounds to each pit stop of the dryers and chairs. Finally, The Chair would turn, displaying the familiar style. Her long, red nails patted the updo in approval. The look of expected admiration revealed with a grin.

The hair appointment my mother made with Kesha for her cut, color, and press was a special occasion. When my sister and I would question why she didn't partake in our biweekly girls' day, her response was always: "It's what moms are supposed to do." The Chair was where I'd hear my mom talk about herself for once. Maybe it was because Ms. Kesha had the decency to ask how she was⁠ — something that slipped my mind all too often. But, no, that couldn't be the only reason ... I'd like to think it was the energy, the essence of the salon.

Something about the salon brings about shameless selfishness. It's a place where it's okay to be vain and a place where the women who often put themselves last, were put first.

The roots that were taken care of, braided, and greased up in Kesha's Salon are the roots of my community. Within those four fluorescent purple walls is where I grew up, learned how to care for myself, and received the best advice from a plethora of Black women of all backgrounds. The place that served as Black girl therapy was the epitome of love, and I can't help but wonder what those walls would say if they could talk. ■






by: Olivia Marbury

layout: Diana Perez

photographer: Ren Breach

stylist: Miguel Anderson & Ayden Correa

hmua: Michelle Adebisi, Emma Brey

models: Tylan Dangerfield, Erin Toliver, Blaire Young




View the full spread as it appeared in Issue No. 18

here

.