NYFW Spring 2020: Most Striking Trends


September 23, 2019/ Bryanna Lopez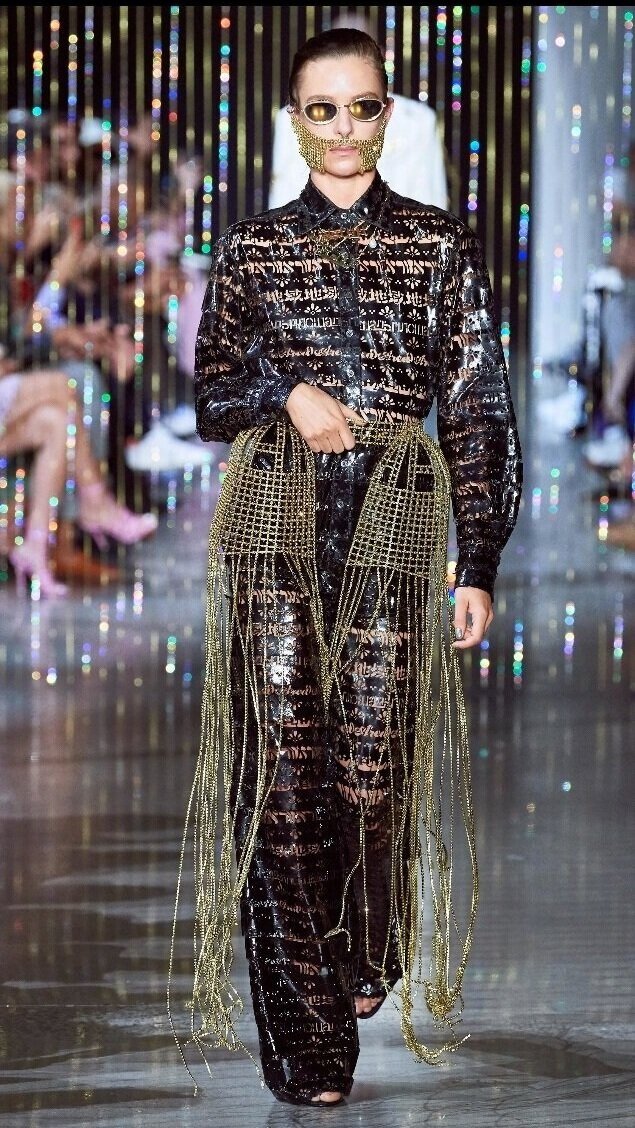 Area on crystal beards; photographed by Salvatore Dragone

One of fashion's biggest weeks came and went this month, marking the beginning of the best time of the year: New York and Paris Fashion Week. NYFW began on September 6 and ended on the 14, but it left us with some very surprising trends that honestly have left me ready to hit the racks for a perfect spring wardrobe. Yes, I'm getting a bit ahead of myself as it's time to bundle up for fall. But every fashion week, I find myself in awe of what designers and attendees create. This NYFW was no different.



STATEMENT SLEEVES

Everyone loves a piece you can throw onto spice up a simple outfit and statement sleeves seemed to be all the buzz for the upcoming season. Christian Cowan's Ready-to-Wear collection went above and beyond, from blacks and whites to bright reds and neon pinks, these garments were very sleek street-chic with a dash of sparkle and rhinestones. The most eye-catching piece of the show was a spandex athleisure jumpsuit with outrageous, feather-like sleeves. The model looked like she could take-off mid-show.



Christian Cowan's statement sleeves; photographed by Filippo Fior
HEAD TO TOE NEON

Grainy photographs and biker shorts have returned from the 80s, and so has neon streetwear. The runway was splattered in hot pinks and lime greens, bringing to life garments like Tom Ford's neon pink chrome breast plated ensemble and Christopher Kane's lime green sweater-skirt duo. The designs were simple, but the incorporation of attention-grabbing fabrics created a bold, head-turning outfit. Kane's garments are usually business casual, but the bright neons made the looks more playful and chic.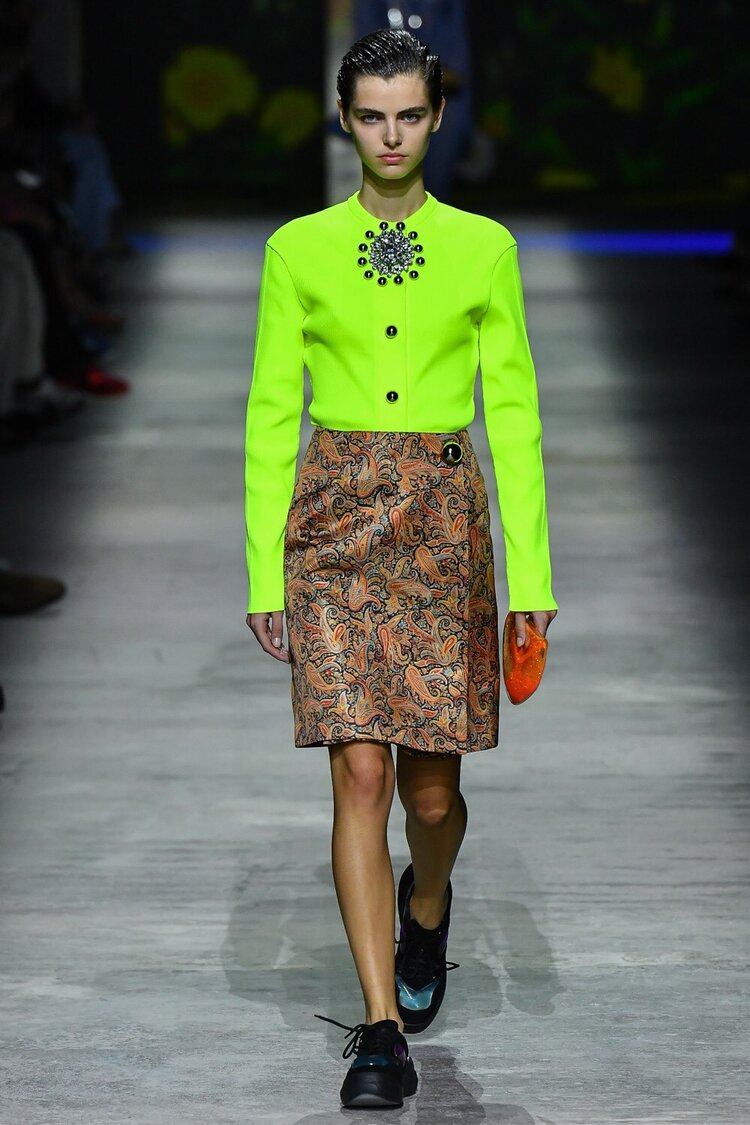 BEARD GANG

Thank Area for inviting Crystal Beard to the party. As an avid fashion week fan, headdresses and accessories have become a highlight in designer's shows. The right accessories can change any garment's story and further the show's vision. The crystal beards used in the Area's Ready-to-Wear Spring 2020 juxtaposed a glamorous beard with an understated suit. In many ways, it gave every outfit a gender-neutral touch and reinforced the idea that suits have a place in anyone's wardrobe.

MIX-AND-MATCH

Remember when jean-on-jean was a faux-pas? As of Sept. 6 2019, the fashion world encourages you to mix and match your wildest pattern pieces. Yes, runways have been doing this for years, but mismatching patterns have been normalized by celebrities and influencers' streetwear. Street style photographer Phil Oh captured a variety of prints coexisting on one body: flamed tops with camouflage cargo pants, polka dot top with floral flannels. Mixing patterns may seem chaotic and messy, but it's as if we accidentally reflect the chaos going on in our world through our clothing. And it's not just a world where wearing whitewashed denim with a jean jacket is okay, but a world where trends are pointing out flaws within society and broadcasting them through our outfits.



Phil Oh captures the mixed and matched; photographed by Phil Oh
ONE BAG, ONE FLOWER POT.

Yes, florals for spring are groundbreaking. But, Kate Spade New York took an overdone concept and created a masterpiece by using various types of plants as accessories. This is a trend that no one expected, or would have expected in a Home Depot catalogue: models walking down the runway sporting bags filled with flowers and leaves while others held large flower pots. Yet, the modest chic outfits dipped in khakis and blues made for a relaxing and breathtaking show. It could even inspire one to plant an entire garden while wearing your Sunday best.

NYFW gave Spring 2020 life and made spectators want to splurge on shorts and dresses that will soon be on clearance racks. Yes, winter may be around the corner, but these upcoming spring trends have everyone excited for winter to disappear. •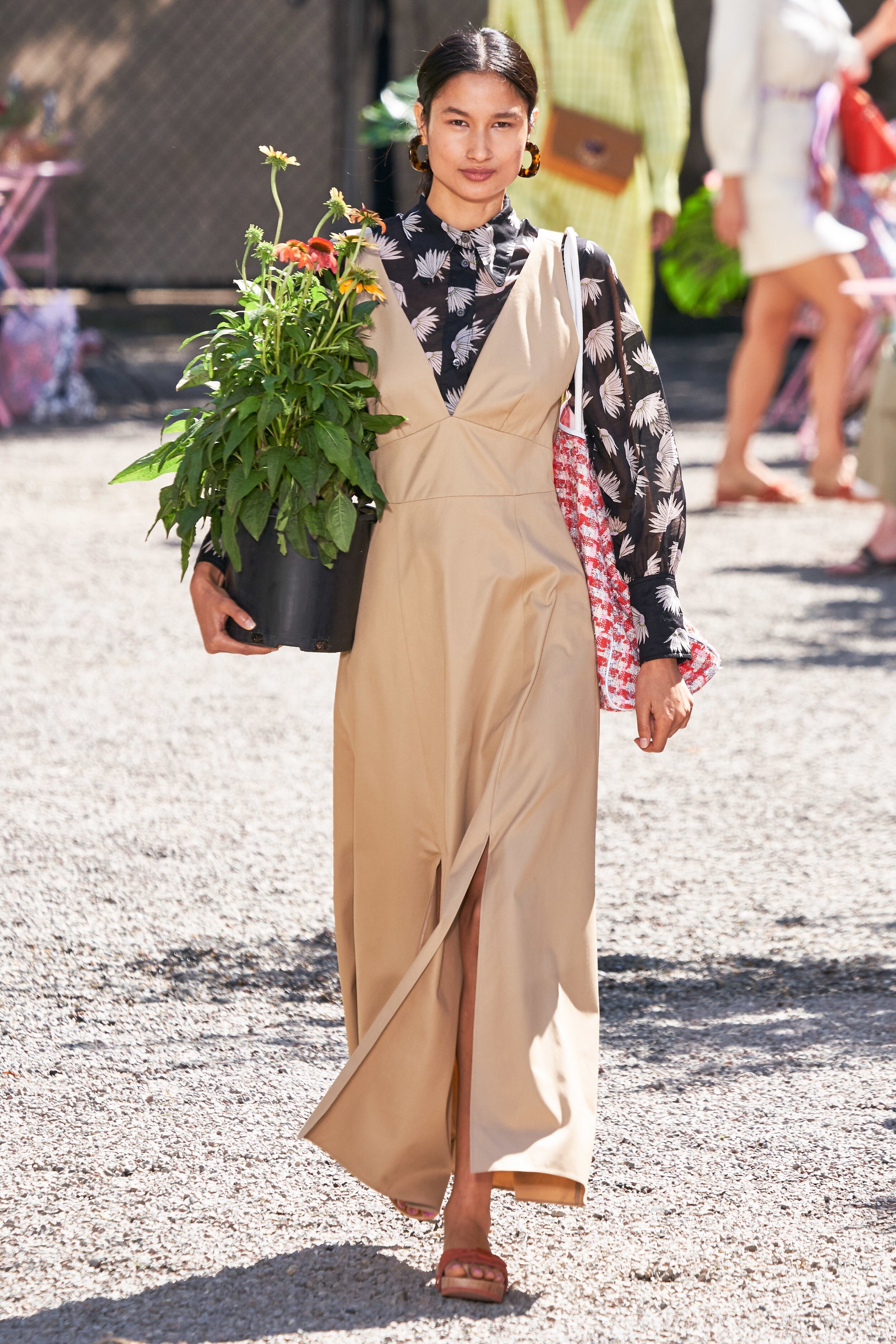 Kate Spade adds Flowerpots to the runway; photographed by Alessandro Lucioni
by: Bryanna Lopez
photography:
Phil Oh, Alessandro Lucioni, Carlo Scarpato, Filippo Fior, Salvatore Dragone
All photos are off Vogue Runway App:
https://www.vogue.com/fashion-shows
Bryanna Lopez is a Sophomore Textiles and Apparel Design Major. She is passionate about health, fitness and anything fashion related. She loves to promote living a healthy lifestyle, veganism and incorporating those into fashion design.