Ransom Ashley Takes You There For Art

November 14, 2019 / Jade Fabello




EDITOR'S NOTE: Ahead of the release of Spark Magazine's Issue No. 13, "Activate," I'm thrilled to announce a sneak peek into our feature editorial starring Ransom Ashley. The Austin-based photographer is best known for his captivating, boundary-breaking photography work. In an unprecedented move for Spark, we wanted to give you a small glimpse into the world of Ransom Ashley. Pre-order Activate now to read the full story on Dec. 8.


Ransom Ashley struts into Arrakis Co-Op, a communal living space near the University of Texas, as though he's ready for a photoshoot before styling and hair and makeup has even begun. His golden hair falls perfectly to his shoulders as he greets every member of the Spark team, as if he'd known them for years.

Ransom, 27, is an internationally-recognized photographer, actor and cinematographer with work in publications like Teen Vogue, Tribeza and The New York Times. Originally from Shreveport, Louisiana, Ransom moved to Austin with his fiancé a year ago to settle into a creative community. Going there, better known as embracing vulnerability, is a challenge for everybody. We constantly fear that if we expose ourselves too much then we'll become unworthy of connection. Ransom's photography, however, has his subjects charge into this fear.

On set, Ransom's fiancé, Hunter Coleman, 27, rocks a sharp gray blazer and Clark Kent glasses. With half a decade distancing them from college life, they fondly admire the colorful scrawlings that adorn each wall. In the midst of the eclectic environment, their put-together energy seems to misplace them ever so slightly.

On a Sunday afternoon, Ransom sits as the Spark creative team preps him for his Issue No. 13 feature photoshoot. Usually, he is behind the camera, but today he is the subject. A few feet away, Hunter's knees turn into mountains as he drops down onto a low couch (He's 6'5).



North Loop Boulevard, featuring Alex Kincade. Photographed by Ransom Ashley, 2019. View this piece in the upcoming East Austin Studio Tour.


Hunter works in finance, yet accompanies Ransom to nearly every story Ransom has shot since they've met. It's not like Ransom requires an on-set aide: Having had work in shows across New York, London, Brighton and Budapest (he also once acted alongside Oscar-winner Holly Hunter), Ransom has created authentic art for years. Still, he says Hunter's presence has made drawing forward vulnerability much easier.

"A lot of times, I see that people are intimidated by the camera. As if it's going to see something," Ransom says, care and Southern charm carrying his voice. "I'm the same way, I'm like, 'What's it drawing up? What's it going to see? Because Hunter's not the photographer, a lot of times they'll open up to him initially, in a way that they won't to me."

Ransom and Hunter move as a duo on their sets. They create a world that disappears everyone but them and whoever they're shooting. As Ransom frames his shots, Hunter begins the interrogation. "We'll talk about family, being bullied, some of those struggles," Hunter says. He's a bit firmer than Ransom in tone. "When I sense you don't want to talk about something — I've got it."

When Hunter senses an uncomfortable or raw moment, he pushes their subjects forward. He says he looks for the true self — the self that only bedroom walls know, the version of a person that dances to internal music and stretches the skin of their face in front of a mirror, clawing at blemishes that are invisible to anyone else.

"I'm not doing it to be a dick," he says. "I'm doing it because I care about the person we're talking to and their story. And I know that the best way to capture that story is if that person is vulnerable."

Load, pause, click. In an instant, Ransom finds history, a moment of loss, joy, frustration and everything in between. In the frame, a subject's face tells a story. Hunter draws it out and Ransom collects.

Back at Arrakis, Hunter looks adoringly at his fiancé as Spark creative Tiffany Lam tosses Ransom's long locks between her fingers. Referencing extravagant hairdos common in editorial fashion shoots, she questions jazzing up his hair.

"Well, this isn't just any hair," Ransom says with a smirk.

Ransom's hair stayed down.

In the bedroom of their Austin home, a bright rectangle cuts through the dark. Hunter rolls over to see Ransom's hand glued to a keyboard. He's finding meaning on the screen, a flood of photos and micro-adjustments stringing together as Ransom drags editing sliders across the digital space. Hunter worries about his partner's lack of sleep but he's too enamored with the work to care. Hunter is glad to watch his partner do what he loves.

"That's how I think about Ransom. This isn't his hobby, it's not his job, it's not his career," Hunter says. "It's his permanent passion." He lets his words sink into the small room.

"Wow, Hunter," Ransom says, with a teasing smile.

"Do you like that? We can put that on the back of a book."





With the makeup look done, Ransom heads to the back room to change into a slick sharkskin suit. I ask Hunter about his partner's imperfections. "I'm not sure he'll ever be satisfied in his work," Hunter says, without judgment.

"Ransom is his own worst critic."

In late 2016, Hunter saw Ransom across the floor at one of Shreveport's gay clubs (they have two). Both men were raised in Shreveport, a small conservative city in Northern Louisiana. When it came time for college, they moved to New York — Ransom for photography at Parsons and Hunter for psychology and football at Columbia. Despite spending the majority of their lives in the same cities at the same times, their paths did not once overlap in 24 years.

Both had independently returned to their hometown. Between his college years and that day, Ransom had already well developed his career and spent a lot of time traveling. He lived in and visited New Orleans, New York again, Italy and a ton of locales. But for the first time in their lives, they were finally both in the same frame. Hunter felt drawn to Ransom's aura and made his approach.

Their first date was at a Mardi Gras Festival in 2017. Hunter remembers Ransom calling him out for not being authentic from the jump. "It might have been even more blunt," Ransom says through laughter. He asked Hunter who he was trying to impress and said if they were going to work, Hunter would have to be no one else but himself.

"No one had ever told me that and actually meant it before," Hunter says.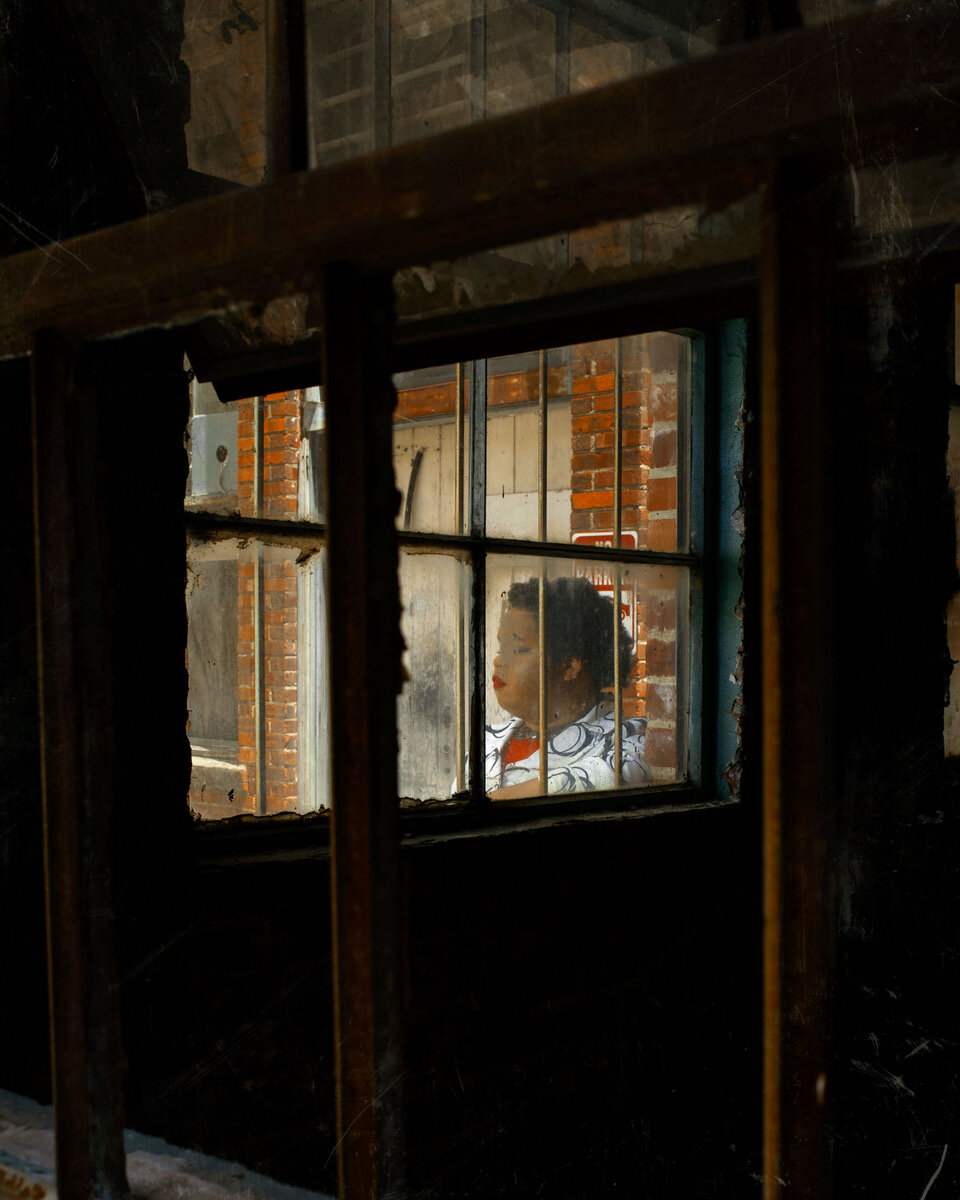 "I want you to think about the way those people that said all those terrible things about you made you feel, and I want you to think about the beautiful and powerful woman that you've become. I want you to look at the camera. And that's what I want you to give." An example of what Hunter Coleman says on their sets.

In the photo above: "Marcus, Alley." featuring Marcus Thomas, photographed by Ransom Ashley. This piece is currently on view at Austin City Hall.


As the Spark shoot begins, Ransom poses for our camera, joking about the cowboy boots we have him wear and his desire to keep the suit. Wearing a more serious tone, Hunter stands tall on the nearby porch. With minimal prompting, he demonstrates his readiness for vulnerability.

"We carry our own baggage and trauma — whether it's from coming out or learning how to have healthy relationships."

He says they waited for their families to accept them, to embrace who they are and have always been. "We were both raised very religious, his father is a pastor," Hunter says. "We understood it would take time. But it was not always easy."

Ransom's current project has them primarily working with folks from LGBTQIA+ spaces. They try to be vulnerable themselves before asking their subjects to go there. There is the worry of unzipping a person, of exposing them to thoughts they may not be ready for. Ransom says that Hunter is always shouting words of encouragement to their subjects — offering validation to those who have long gone without.

Ransom and Hunter were quick to bare their souls with us, strangers: What makes them walk in the world. Their dreams of building a family, creating meaningful work and providing security for those they encounter. They readily share how they move through every day. Suddenly and then all at once, they put their full selves on display.

To them, vulnerability is worth it. They say that despite the pain, it can make people feel less alone in the world, and if they have the option to create connection, they will take it every time.

At the end of the shoot, Hunter joins Ransom for a complimentary photo, for no other reason than they feel like it. Ransom in full glam and Hunter not. Load, pause, click. Now in frame: a young couple's open invitation to a city, a showcase of joy and a moment of vulnerability. •


Read more in Issue No. 13, out Dec. 8.





by: Jade Fabello