Rodarte: The Story Of A Truly Unconventional Fashion Label


September 27, 2019/ Garrett Smith


A front row seat is hard to come by during New York Fashion Week. However, fashion label Rodarte gave us one. On September 4, Rodarte released their spring-summer 2020 collection via lookbook and unveiled it with a portrait shot of Kirsten Dunst in a seafoam green and pink tulle gown. This portrait series was a fantasy garden and each design incorporated pastels, hand-beading, florals and patterned sequins.


Beginning in 2005, Rodarte was created by sisters Kate and Laura Mulleavy. Their first collection was spotted by Vogue editor Anna Wintour and since then, she has become a big fan and regularly features them in Vogue. The Mulleavy sisters have also spent time in the film industry and wrote and directed the 2017 film called "Woodshock." The Mulleavys' have always steered away from traditional fashion, and their film and fashion passion's have inspired their for SS20 collection.



Singer-songwriter, King Princess in a hand beaded teal sequin and pearl suit and matching boots.

The fashion world received the nontraditional visual lookbook by Rodarte on the eve of NYFW. Within the photographs, you could see each crease in the tool fabric, the shine of the sequins and feel the texture of each design with your eyes. The lookbook had stunning visuals of a fantasy garden theme, and designs with old hollywood and high society vibes. The models featured were surrounded by pots of hydrangeas, greenery and a marble woman. The Mulleavy sisters opted out of a runway show and decided to present their collection through portraits, using their favorite actresses and singers as models. Foregoing the runway is like wearing white after Labor Day, you just don't do it. However, these ideas are changing thanks to a new wave in the industry that is seeking to break the chain of traditionalism.



Rapper Kila Kosh in a seafoam ruffled dress with pearl embroidered sheer white gloves.


Rodarte also featured models who are not your typical models. They aren't all size 0 or 5 feet 10 inches — in fact, they aren't even models at all. Rodarte pulled together their most glamourous friends and celebrities to showcase their collection. The shoot included actresses Kirsten Dunst, Lili Reinhart, Alexa Demie, Gabrielle Union, Yalitza Aparicio and more. These stand in models exemplified Rodarte's collection by establishing that these designs are ready-to-wear for any special occasion and any woman. The Mulleavys' were adamant that their designs are for all women to feel beautiful and are designed to be the center of attention.

Breaking from tradition is what the Mulleavys' are all about. With ravishing visuals and out of the ordinary models, who wouldn't want to wear a Rodarte gown. •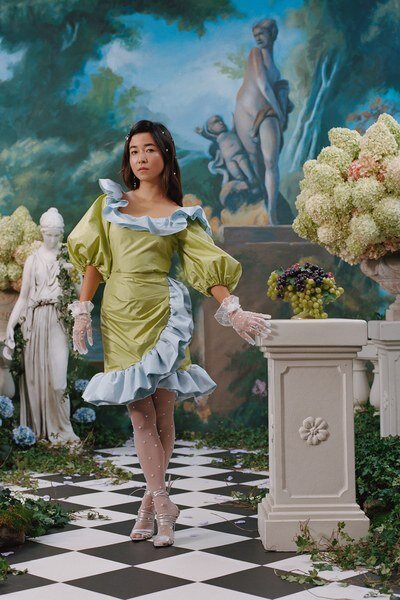 Actress and writer, Maya Eskrine in a light blue and lime silk gathered dress with white tights.
Actress, Kirsten Dunst in a sea foam green and pink tulle gown covered in tiny pearls.

by: Garrett Smith

photagraphy: Daria Kobayashi Ritch