Sashaying Down Memory Lane: Top Three Moments of Milan Fashion Week

April 29, 2021 / Manalie Barot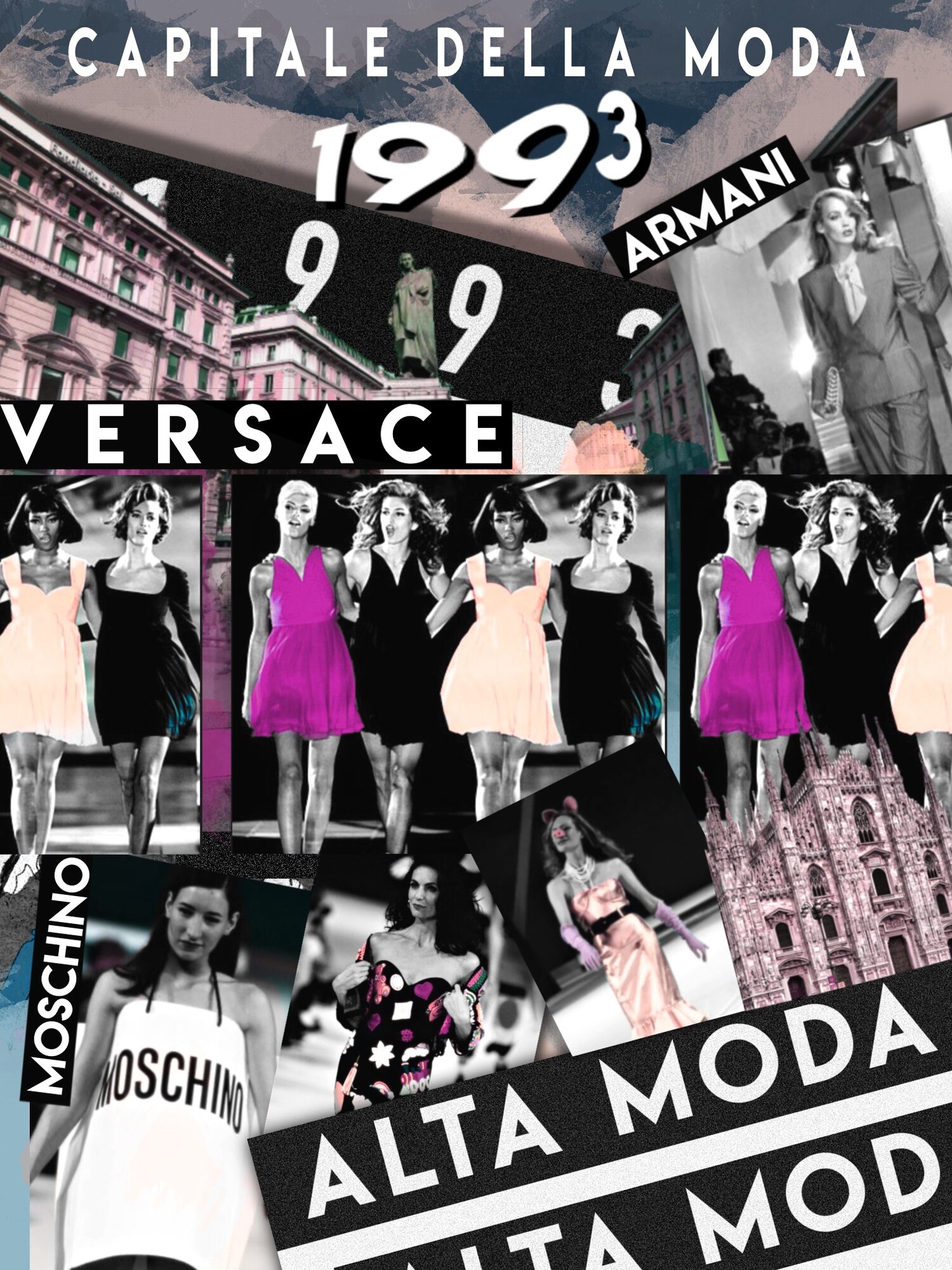 Milan. A city renowned for its warmly-lit cobblestone streets, elegantly adorned locals, and generously-buttered Risotto. But renowned it is, perhaps most of all, for its reputation as an international style hub.

From Moschino's opulent, extravagant classics to Versace's gaudy, bondage-style luxuries, Milan has undoubtedly established itself as the mise en scène in every aspiring designer's dream sequence. Every spring, the city comes alive with the sounds of snapping camera shutters and clicking heels to celebrate pristine tailoring and flamboyant runways in the most anticipated event of the year: Milan Fashion Week.

Though the runways may have missed their dangerously fashionable spectators this year, they certainly did not miss the mark on their legacy of sporting the season's top collections. In the spirit of this legacy, I'd like to throw it back to the most iconic catwalks of MFW (yes, all the way back to when large audiences didn't seem like a distant fantasy).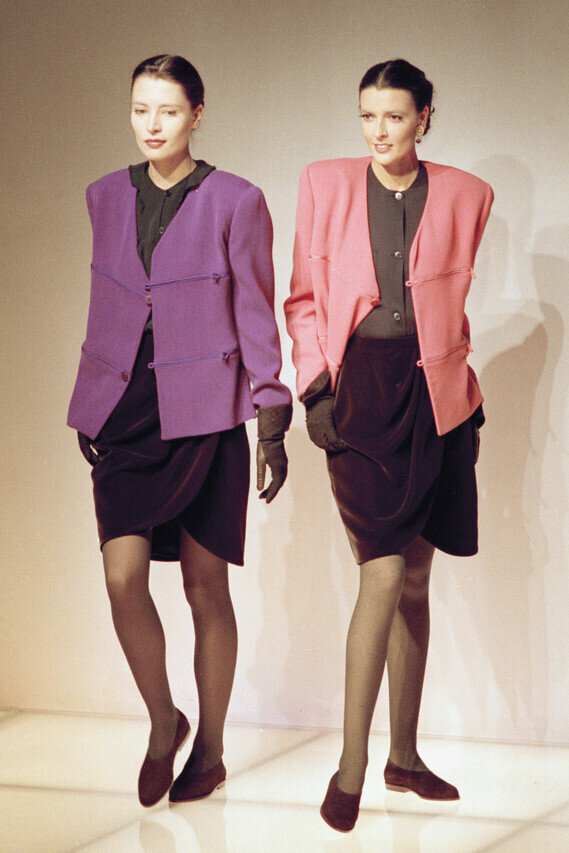 Image via
Wall Street Journal
ARMANI: THE PIONEER OF FEMALE WORKPLACE FASHION



Small town designer Giorgio Armani took the Milanese fashion scene by storm in the late 1980s with his new, exquisitely tailored line of female "power suits." His 1940's Hollywood-inspired Spring/Summer 1988 collections featured loosely structured suits made with the same soft material as the menswear, all while celebrating the intersection of feminine authority and sensuality. Serving major Miranda Priestly from The Devil Wears Prada vibes if you ask me.

At a time when the 1970's women's rights movement ushered in a new wave of females into the labor force, revolutionizing workwear for ladies put Armani at the forefront of Italian fashion. Armani was soon labeled an "emancipator" of women's fashion alongside big names like Paul Poiret and Coco Chanel (Guggenheim).
POLITICS AS A STATEMENT PIECE


Up next, we have the Fall 1993 Moschino Runway: a classic example of fashion transcending the surface-level interpretations of fabrics and patterns. An activist ahead of his time, Franco Moschino was known for openly mocking the fashion industry's excessive extravagance by incorporating off-beat elements like plastic bags, measuring tapes, and in this case, front and center pig accessories to his collections.

Emblazoned with gaudy elements, the runway in particular amplified issues surrounding animal rights and sustainability. At a time when conversations surrounding fast fashion and its detrimental environmental repercussions have taken off in popular media, Moschino's mission to create a sustainable brand has proven to be even more worthy of laud.

Image via Vogue
Images via
Grazia Daily
A VERSACE-STYLE REPRISE

We close the curtains on our top 3 moments of MFW on a high note. Straying from the textbook image of a single model sauntering down the catwalk, Gianni Versace stopped the world of fashion on its tracks in his Autumn/Winter '91 show. In pairs of twos and threes, models flashed cameras to George Micheal's hit number "Freedom".

Topping the show-stopping runway off with a twist, supermodels (from the left) Linda Evangelista, Cindy Crawford, Naomi Campell, and Chrissy Turlington sashayed down the ramp sporting bouncy blow drys and bold cat eyes, syncing their lips to the sound of Micheal's tune over the speakers. Given that these ladies had just debuted alongside Micheal in his music video, this iconic reprise crystallized Versace's creative vision in the collective style psyche for ages. So much so, that on the 20th anniversary of Gianni Versace's passing, his sister, Donatella Versace, revived this frame with the same models to recreate this eye-catching moment for her SS18 collection. Too bad the Internet wasn't around to break at the time, or else this moment would have been plastered onto feeds all around the world as a viral snapshot in time.


Now that we've dug up some rich gems of the past, one question lingers: What does the future of MFW hold? Ironically, the onset of the COVID-19 pandemic has left many members of the fashion community asking the same question. Undoubtedly, technology has become the right-hand companion of many creatives during this unparalleled time. Consequently, many speculate that digitization today could translate into bidding farewell to traditional grandeur-filled displays and eccentric in-person audiences for years to come.

A new era of fashion could mean that the fabric of reality is sewn into the realms of virtual and artificial intelligence to better suit our increasingly popular "digital identities" (McDowell). Does the traditional craft of runway fashion stand timeless in the advent of a digital age? Who knows, maybe next time instead of traveling across blue oceans to dip your toes in the opulent history of MFW, you may find yourself traveling across the room to join a well-crafted, digital audience. ■





By: Manalie Barot




Graphic by: Paris Eskew