May 1, 2022 / Camille Bao



Dotted across the continental U.S. was my graveyard of lost summers.

The summer of 2018, my mother and I drove to Garden City, Kansas. The whole way there, a tornado brewed from the distance, as dangerous as the wide expanse of emptiness we'd wandered into. I could count the objects we passed: one lone tree, a house on the horizon, zero cows.

"Are you scared?" I remember asking my mother in between the bursts of photos I took of the falling sky. I wanted to capture it — this beauty of being somewhere inescapable, flashes of lightning all around us. It's for later, I told myself, but I posted it on my Instagram story ("Bye Texas") to match all the other summer pictures on my feed, from classmates who made those annual trips to places like Cancun or Miami. Places they mentioned so casually in conversations that I always wondered what it was like to be in their shoes.

"Not one car nearby," my mom said, shaking her head, both hands clenching the wheel. "Look, ah, the wind must be so big out there."

She was right. We could feel it from inside the car, which seemed to shake like the leaves reeling outside. I wasn't afraid, though. If the tornado caught up to us, we could see it up close, and how many people have done that? Lucky, lucky me.

Truthfully, I didn't think anything bad could ever happen as long as I stuck close to my parents. In the fervor of late June, known to me as the peak of summer tournaments, there was something endearing about my mother and I, side by side in a Volvo for 10 hours, my golf bag and a shared suitcase in the trunk, her wide eyes on I-83, humming along to the radio station that tuned in and out with the thunder.

She was always the happiest driving me to these tournaments. With my father mostly absent, the two of us roamed the dark winding roads of Louisiana, the narrow precipices of San Jose, and the colonial streets of North Carolina. Dotted across the continental U.S. was my graveyard of lost summers, the playground of old money and business deals. Some of the clubs I played at were so exclusive, you couldn't buy your way in. Others had four-year-long waitlists.






When we arrived at the Buffalo Dunes Country Club, the sun hung above like a burning bulb, so bright the sky turned milky white. With my clubs unloaded from the trunk, I walked up the hill to join the other kids on the putting green — kids better than me, more eager, from the most distant corners of the U.S. Parents waited in the club, religiously refreshing the live dashboard for hole-by-hole updates. A handful of dedicated ones, like my mom, donned their UV-protected sunglasses and visors and followed us to every hole.

Tipsy from the torrid Kansas air, I traversed up and down the course slopes and didn't notice the absurdity of it all. I had a marked-up game plan of the course — to hit my ball there, impress the Kansas college women's golf coach off the tee, and make that uphill putt. For a week, this would've worked. But I missed the cut after the second tournament day and returned to our hotel room, defeated, sunburnt, and angry. I collapsed facedown on fresh linen sheets. Buried under my skin, layers of sunscreen and sweat molded into a familiar sense of stickiness that I could never shake off.

I can't pinpoint the first time I felt this way. Was it when I was 11, and someone next to me in the driving range asked if I were the next Michelle Wie, and I, with my similar China-white skin and little tennis skirt from Ross (the best lululemon knock-off), said, I hope so?

I laughed it off, but I thought of it every time I saw her on TV, with her trailblazing drives and multimillion dollar Nike deal, a record-breaking one in women's golf.

Or was it when I was 15, standing on the cliff of Pebble Beach for a professional tournament as my golf ball joined all the other wayward ones lost in the ocean? I still had time, then, I think, to start over, do better on the next hole and make that summer worthwhile.

Or did it all start before I could remember, when my father picked up Earl Woods' Training a Tiger, and set up a makeshift driving range for us in our Indiana backyard with the little money we'd saved up after paying off his law school debt?

My mom wasn't with me that afternoon in the hotel room (she was cleaning out the car for our drive home to Texas), but I could hear her voice in my head. Aiya, don't touch the bed with your dirty clothes. Take them off! No matter her dedication, she hated seeing the mud on my golf shoes, the dark tan lines on my skin from baking under the sun, and the faint ones on hers.

I was trapped. Between blaming the Midwestern wind,the dunes, God, and my mom, who I still loved dearly, I couldn't bear to leave without seeing things to the end. If I had to clench my jaw and pull my teeth and cry a little more under glistening country club ceilings, I could almost see myself making a Division I team by the start of fall, when the leaves turned golden and magical and college applications began. On that day, I thought I would feel at peace at last (and maybe finally be able to afford lululemon).

Still, it tugged at me, the way I never got to experience summer as I longed to. Idyllic, sunkissed, romanticized. I dreamed of laying in the sun, feeling the warm sand between my toes, the beam on my cheeks, losing all grasp of time and reality. Wasn't that how childhood was supposed to feel? In those dreams, I'm free from the opulent and success-crazed world my family wormed our way into. Any second now, the fake grass mat in our Indiana backyard all those years ago would be disassembled.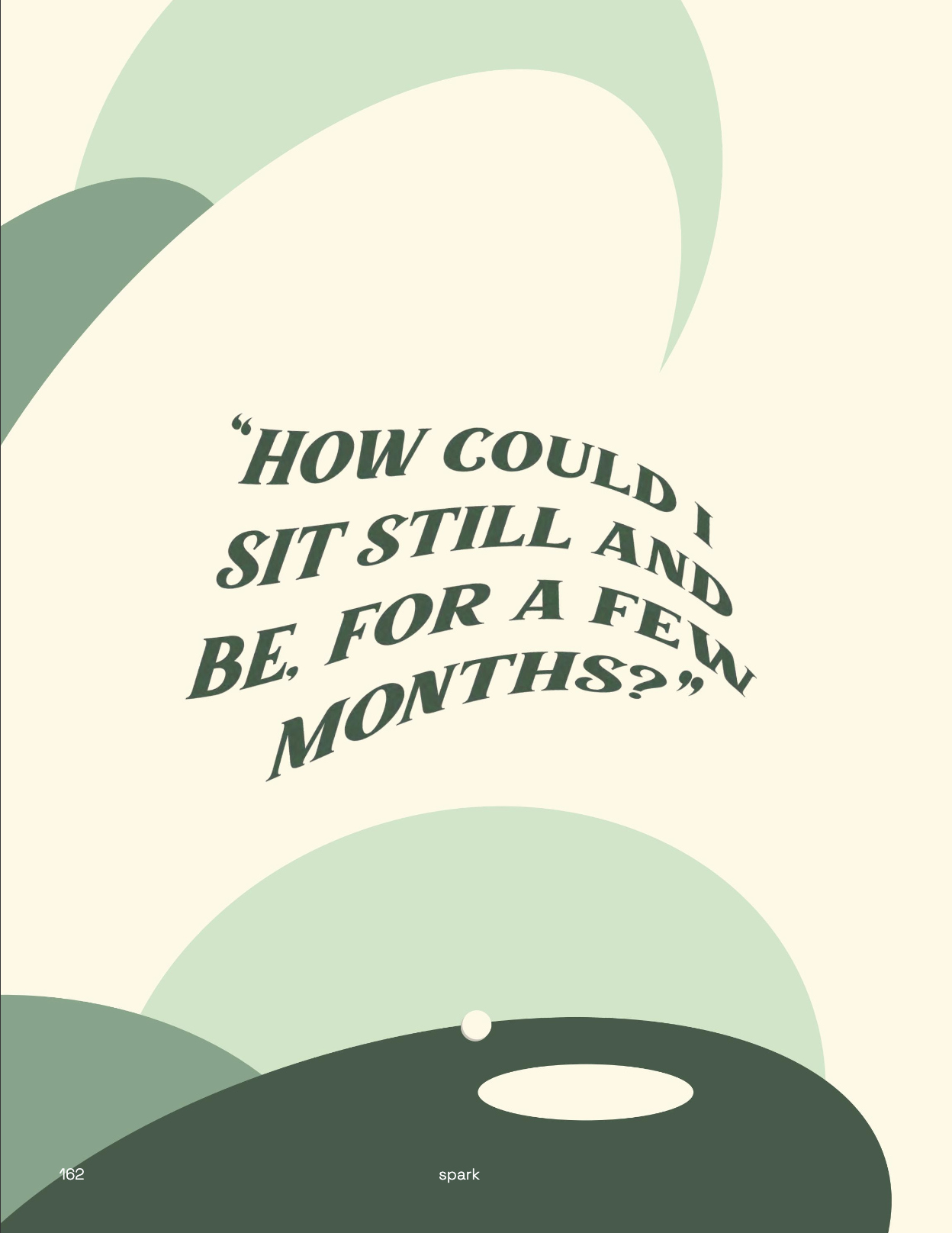 I ended up going to a state university, and on the first day of my first free June, I scribbled down a list — places to go, people to meet, books to read, themes to live by. How could I sit still and be, for a few months?

That summer, my best friends and I found ourselves on the sands of Laguna Beach, happily eating the newest McDonalds' BTS meal, far from what we'd put on our itinerary. The sky loomed an ugly gray, and I knew if we drove some six hours north, we would have reached that golf course on Pebble Beach where the sun always shone. But I'm finding shards of my childhood here, disillusioned as more years come in between the beautiful places that I once felt confined to. ■






By: Camille Bao

Layout: Melanie Huynh




View the full spread as it appeared in Issue No. 18

here

.